Booker longlist: Stephen Kelman on Pigeon English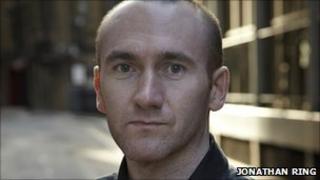 One of four first-time novelists on the Booker longlist, Stephen Kelman reflects on how the killing of Damilola Taylor and his own upbringing on an estate helped inspire the idea behind Pigeon English.
Of all the debut novelists on the Booker longlist, Stephen Kelman is perhaps the most high profile. The writer made headlines last year when his manuscript for Pigeon English sparked a bidding war between 12 leading publishers.
A BBC TV dramatisation is also in the pipeline.
The book tells the story of 11-year-old Harrison Opoku who, with his mother and sister, is newly arrived from Ghana on a rough London estate.
When a local boy is knifed to death and a police appeal for witnesses draws only silence, Harri decides to start a murder investigation of his own.
Kelman, who himself grew up on a Luton council estate, drew inspiration from the real-life case of 10-year-old Damilola Taylor, who was stabbed and died on a Peckham estate in 2000.
"I remember being very personally affected by that story," he says. "I felt a huge sense of loss and sadness and anger, not just over Damilola's case but all those that have followed since."
Although initially unsure that he was best qualified to tell the story, Kelman decided to pursue his writing seriously in 2005. He wrote several rejected screenplays and a novel "now gathering dust at the back of a drawer".
"I'm viewing that as the first pancake of the batch - the one you get wrong," Kelman observes wryly. "At that point I was toying with the idea of giving up but then the idea for Pigeon English came along and I was inspired.
"I felt it was a great privilege to have been brought up on an estate in an environment where there was such diversity around. The immigrant story is part of Pigeon English but not the main thread.
"I knew people at school who ended up in trouble and in prison. The background tapestry of life on that estate is something that seeped into me and I was able to draw on that for the book."
The character of Harrison, he says, just appeared "out of thin air".
"He started chattering in my ear and wouldn't go away and I set down his first thoughts on paper and they seemed very authentic. That gave me the confidence to go on."
He also introduced the device of a talking pigeon as a metaphor for immigration and integration.
"The pigeon is ubiquitous," explains Kelman. "Some people view them as pests and vermin and others accept them as a benevolent part of daily life.
"The pigeon's voice was also a useful intermediary in getting across some of the more complex ideas."
'State of shock'
Born in Luton in 1976, Kelman describes himself as a precocious reader at primary school.
"I remember being pulled out of lessons to go and read for the headmistress. She used to give me copies of books on the GCSE curriculum, so I was reading books for 15 and 16 years-olds at the age of six or seven."
Kelman got the news of the Booker longlist while he was constructing a wardrobe in his new house.
"I got a call from my agent and she said 'put down your hammer and sit down'. There was a lot of excited whooping and then I entered a state of shock. The wardrobe is still pending."
As well as the wardrobe, Kelman's second novel is also work in progress. He has just completed a first draft.
"It's completely different to Pigeon English. It's about a friend of mine who's an Indian journalist who breaks world records in his spare time," he explains.
"I'm very fortunate I'm in that position now where I can write full-time. That's something I've dreamed of from a very young age."
The shortlist of six authors will be announced on 6 September with the winner of the £50,000 annual prize named on 18 October.