Husband of Zsa Zsa Gabor buys anniversary billboard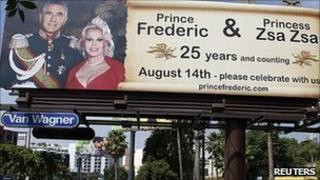 The husband of actress Zsa Zsa Gabor has taken out a billboard in Los Angeles to celebrate the couple's 25th wedding anniversary.
Frederic Von Anhalt said the notice on Sunset Boulevard is a gift to his ailing 94-year-old wife.
He said he spent his "life savings" on the $68,000 (£41,795) billboard, which will be up for a month.
Alongside the couple's wedding photo, it reads: "Prince Frederic & Princess Zsa Zsa 25 years and counting."
During a press conference in the US, Von Anhalt said: "The billboard was very expensive.
"I just put my life savings in it. I said forget about tomorrow. I want to do it today. I want to do it for her.
The 68-year-old went on to say that being married to the star was "priceless".
He added: "What she gave to me, the things we did together, the happy life we had together, you can't pay for it with money. It was perfect. It was just perfect and we're going to go on."
Gabor' has suffered from ailing health since breaking her hip last July.
She was admitted to hospital a number of times after developing swelling in her legs and blood clots throughout her body.
Earlier this year, doctors amputated her right leg above the knee.
Born in Hungary, Gabor starred in the films Moulin Rouge, Touch of Evil and Queen of Outer Space, among others.
But she is better known for having had nine husbands, including hotel chain founder Conrad Hilton.