Adam Ant goes back to basics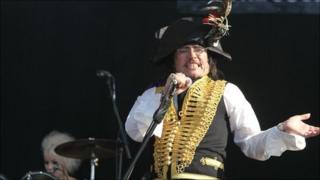 Adam Ant found fame in the 1980s with his band Adam And The Ants.
For a short period, striding the stage in his brocaded Hussar jacket and facepaint, he was ubiquitous. His string of top 10 hits included three number ones: Stand and Deliver, Prince Charming and Goody Two Shoes.
But in 1982, just two years after their first major hit, the group disbanded.
Ant went on to launch a solo career and turned his hand to acting.
However in 2003 his career took a nosedive, following two arrests - one for pulling a replica gun in a pub, and another for stripping off in a cafe.
The singer was subsequently sectioned under the Mental Health Act.
Eight years on, he has put all that behind him and has returned to his roots, concentrating on music.
"People might ask 'what does the guy with the stripe over his nose look like 32 years later?'," he says.
"He's a bit more rough and ready, a bit madder, and a bit wiser."
Forthcoming reunion
The 56-year-old singer - real name Stuart Goddard - is currently writing a new album, in preparation for the Ants reuniting.
"That's in the pipeline now. I own the name and the brand, and it's my baby. I am going to take certain members of the original band and release our fourth album."
But unlike the first time around, when Ant claims that he was underpaid - this time he maintains he will be banking all the profit.
"Back then I was working for a ridiculously low percentage for the record company. I was getting 9% - which is not enough - and I was financing everything out of that.
"I was financing the video, the tours... and you get deeper and deeper in, because I didn't want to just stand in front of a brick wall and do a video.
"So every time a record sold for £1, I'd get 9p. Now I've got 100% of the company shares."
However, the star still has his reservations about the music industry.
"It's all got a little bit lazy," he says.
"It's gone a little bit Opportunity Knocks and kids get the idea that you go on a TV show and six weeks later you're a star."
With his latest record, Adam Ant Is The Blueback Hussar In Marrying The Gunner's Daughter, he is going back to basics.
"I'm not going to do downloads on my album. I'm doing vinyl, CD and cassettes," he reveals.
"I want to make a point, because I don't get paid when people [illegally] download my records.
"Personally, I want something tangible in my hand. I also think vinyl is going to come back in a very big way in the future."
This weekend, the star is preparing to play The Vintage Festival, which takes place at the Southbank Centre in London.
The event, now in its second year, was set up by designer Wayne Hemingway to celebrate the history of music and fashion - and open the doors to people who embrace the Rockabilly era.
Following a 30-day tour of the UK, Ant - who has come to cherish his downtime after the intensity of the 80s - will play just two songs at the event.
"I took 11 days off in three years with Adam And The Ants," he recalls. "Now I'm back, I'm not going to do things that I don't think are necessary."
The twice-divorced star completely withdrew from the music industry for five years to help bring up his daughter Lilly.
"I think 30 years of non-stop work catches up with you," he says, in an oblique reference to his battles with depression.
The musician has talked in the past about having bipolar disorder - but his take on his health issues is typically idiosyncratic.
Having previously described himself as "physiologically allergic" to anti-depressants, he says he no longer takes medication because he believes prescription drugs "literally take away the highs and the lows".
He goes on to say he believes the medical approach to dealing with mental health is "unutterably archaic", although he concedes that medication is necessary in some instances providing it is "monitored very, very carefully by your GP".
Instead, he chooses to use homeopathic methods: "I need to be up and down - I'm an artist," he insists.