Nicki Minaj fined for swearing in Jamaica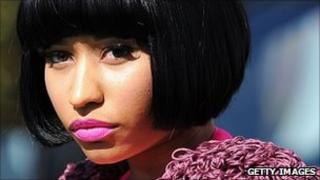 US rapper Nicki Minaj has been fined for swearing on stage during a performance in Jamaica at the weekend.
The 28-year-old was issued with a summons for breaking local laws against profanity after appearing at the Reggae Sumfest in Montego Bay.
Minaj was fined $1,000 Jamaican - the equivalent to just US$12 (£7) - due to the weak currency.
A local lawyer appeared in court on Monday to plead guilty on the singer's behalf and paid the fine.
Jamaica strictly enforces laws prohibiting artists from using expletives during live performances, but the songwriter performed some of her songs uncensored.
She appeared unfazed by stirring controversy, writing on Twitter how happy she was shortly after her performance.
"I swear I just had the time of my life @ ReggaeSumFest in Jamaica! Jamaica I fell in love tonite!" she said.
It was the first time Minaj had performed in the country.
The musician is currently supporting Britney Spears on her Femme Fatale US tour.