Amy Winehouse foundation for addiction planned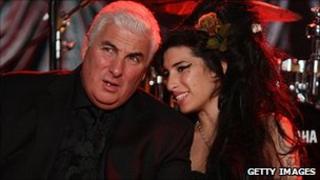 Amy Winehouse's father has revealed plans to set up a foundation in his daughter's name to help people struggling with addiction.
"If you cannot afford a private rehabilitation clinic, there is a two-year waiting list for help," Mitch Winehouse said at the singer's funeral.
He said the 27-year-old had "conquered" her drug addiction and had been "trying hard to deal with her drinking".
He added she had been her happiest "for years" in her final days.
MP Keith Vaz has offered to help with the foundation as Mr Winehouse gave evidence to the Commons home affairs select committee during its inquiry into drugs in 2009.
"I am very happy to help Mitch in any way I can with his important campaign to help rehabilitate those most vulnerable in our society," Mr Vaz said.
At Tuesday's service for the singer, Mitch Winehouse said his Grammy Award-winning daughter, who was found dead on Saturday, had been trying to deal with her drinking and had "just completed three weeks of abstinence".
He added his daughter had spoken of her plans to get sober saying: "Dad I've had enough, I can't stand the look on your and the family's faces any more."
"Knowing she wasn't depressed, knowing she... passed away happy, it makes us all feel better," he said.
Charity DrugScope said it was important support was available to those with addictions.
"Many in the drug treatment sector will welcome Mitch Winehouse's ambition to help young people struggling with drug problems, following the untimely death of his daughter Amy," Chief executive Martin Barnes told the BBC.
"Most young people do not use drugs, and of those who do, the vast majority do not develop severe dependency issues. However when drug problems occur, easy access to specialist support is vital."
The charity disputed Mr Winehouese's claim there was a two-year waiting list for rehabilitation adding that, according to the National Treatment Agency, 94% of patients receive some form of drug treatment within three weeks.
An inquest into Winehouse's death was opened and adjourned until 26 October at London's St Pancras Coroner's Court on Monday.
A post-mortem examination also took place on Monday, although no cause of death was given.
Results of further toxicology tests could take up to four weeks.