Singer Amy Winehouse bows out gracefully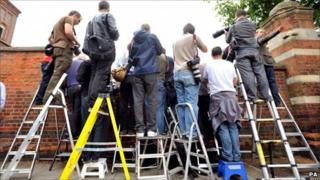 Amy Winehouse lived her chaotic life through a lens. But her family made sure at least part of her funeral was a sedate and private affair.
The service took place at Edgwarebury Cemetery, an inconspicuous location at the end of a suburban street in north London. Almost hidden from view, it was surrounded by trees and hedgerows.
A smattering of paparazzi gathered on Tuesday morning, trying to catch a glimpse of any celebrity arrivals. But they were few and far between.
Most of Winehouse's family and friends arrived in cars with tinted windows, although Kelly Osborne could be seen sporting a platinum blonde Amy-style beehive, holding a single white rose.
Winehouse's producer, Mark Ronson, bucked the trend, walking straight past photographers into the building.
There were no fans to be seen - the venue had been a closely guarded secret.
The atmosphere, like the weather, was calm and cool.
The funeral party then set off to Golders Green Crematorium, about six miles away.
One woman drove past and stopped her car alongside the media gathered there: "It's against the Jewish faith for you to be here, please leave the family in peace."
In contrast to the funeral service itself, at Golders Green, a huge bank of photographers jostled for position outside the gates, climbing on top of cars and one up a tree.
Unusually quiet
Fans had also gathered although they were probably outnumbered by curious onlookers.
"We were on our way to Ikea but saw the crowd and stopped to take a look," one man, accompanied by his wife and teenage daughter, told the BBC.
His daughter, who stood on tip-toe peering over the crematorium wall trying to take photographs, later fainted.
Police tried to keep the traffic moving as members of the funeral party began to arrive shortly before 14:00 BST.
One group of photographers shouted at another across the road, who had nabbed a prime spot just by the cemetery wall and were standing on stepladders.
Bulbs flashed as Winehouse's family arrived, alongside her boyfriend Reg Traviss, Osborne, Ronson and Kerry Katona.
All were dressed in black, with many of the men wearing traditional Jewish skullcaps, or yarmulke.
Some of those attending carried memorial cards featuring a black and white photograph of Winehouse.
Outside the crematorium, there were no speakers blaring out Winehouse's songs and no fans dressed as their idol collected on the narrow pavement.
It was sombre, unusually quiet - compared with the public funerals of other celebrities.
As the cars continued to arrive, one woman remarked that there were not as many people there as she was expecting.
"They class her as a junkie, that's why," she said to no-one in particular. "I thought it would be packed."
All went quiet after the last of the mourners arrived at the chapel, until a drunk man persuaded a photographer to let him climb up his ladder for a better look.
'Know your enemy'
He began crying and shouting over the cemetery wall: "Amy, you're a legend like Elvis, I'm your biggest fan, baby girl - there'll never be another like you, sweetheart."
A policeman finally managed to coax him down after a half-hearted rendition of Winehouse's hit song Rehab.
Another fan stuck a tribute poster to a tree, similar to one also on view in Camden Square, which was spotted by many as the crowds began to drift away.
Perhaps in a reference to Winehouse's past problems with drugs or the paparazzi who followed her until her death, it simply read: "RIP Amy - Know Your Enemy."