Amy Winehouse family and friends attend cremation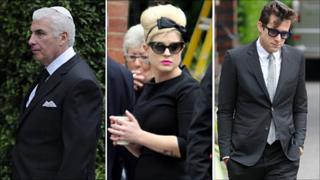 Amy Winehouse's father has told friends and family at the singer's funeral service that she had been her happiest "for years" in her final days.
In his eulogy, Mitch Winehouse said the 27-year-old had "conquered" her drug addiction and had been "trying hard to deal with her drinking".
A cremation in Golders Green followed a private service at Edgwarebury Cemetery in Edgware, north London.
Music producer Mark Ronson and TV star Kelly Osbourne were among the mourners.
At the service, Mitch Winehouse read a eulogy that ended with the words: "Goodnight, my angel, sleep tight. Mummy and Daddy love you ever so much."
'Very moving'
He said his Grammy-award winning daughter, who was found dead on Saturday, had been trying to deal with her drinking and had recently "just completed three weeks of abstinence".
He added that she had told him: "Dad I've had enough, I can't stand the look on your and the family's faces anymore."
Mitch Winehouse also revealed plans to set up a foundation in his daughter's name to help people struggling with addiction.
"Knowing she wasn't depressed, knowing she... passed away happy, it makes us all feel better," he added.
The service, which was led by Rabbi Frank Hellner and included prayers in English and Hebrew, ended with a rendition of the Carole King song So Far Away.
Mitch Winehouse said the song had been a favourite of his daughter's and that they had often sung it together.
Between 300 and 400 people attended, according to family friend Alfie Ezekiel, 55, from Essex.
Mr Ezekiel said the service had been "joyful" and "very moving" and had "celebrated" the singer's life.
'So individual'
Mourners then moved on to Southgate Progressive Synagogue in north London for a private gathering.
The family will hold a two-day Shiva - a traditional period of mourning in the Jewish faith - for the soul star.
Hayley, 27, from Watford was among the fans who travelled to Golders Green to pay their respects.
"She was the same age as me," she told the BBC. "It's just a waste, but she left us with some great music."
Her friend Jay, 20, also from Watford, added: "She had style, she was so individual.
"It's so sad, she had her life in front of her. She was different to other celebrities."
Tributes continue to be paid to the singer, whose body was found at her home in Camden, north London.
Winehouse's goddaughter Dionne Bromfield, who was signed to the singer's record label, said she "felt like a part of my soul has departed with the beautiful song bird Amy".
Winehouse had joined the 15-year-old on stage last week during a gig at the Roundhouse in Camden and encouraged the audience to buy Bromfield's album.
Singer George Michael wrote on Twitter that the late star was "the most soulful vocalist this country has ever seen".
In a posting on her website, fellow singer Adele said Winehouse had "paved the way for artists like me and made people excited about British music again".
Acclaim
An inquest into Winehouse's death was opened and adjourned until 26 October at London's St Pancras Coroner's Court on Monday.
During the two-minute hearing, an official read out the name, birth date and address of Winehouse, described as "a divorced lady living at Camden Square NW1".
"She was a singer-songwriter at the time of her death and was identified by her family here at St Pancras this morning," said coroner's officer Sharon Duff.
The scene of Winehouse's death, she said, "was investigated by police and determined non-suspicious."
A post-mortem examination also took place on Monday. No cause of death has yet been given.
Results of further toxicology tests could take up to four weeks.
The singer won widespread acclaim with her 2003 debut album Frank, which saw her nominated for the Mercury prize.
But it was 2006's Back to Black which brought her worldwide stardom, and won her five Grammy Awards.