First Bond girl Linda Christian dies aged 87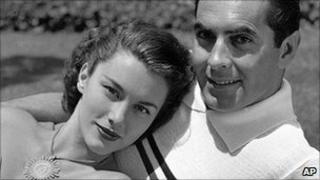 Actress Linda Christian, a 1940s Hollywood starlet who went on to become the first Bond girl, has died aged 87.
She died last Friday in Palm Desert, California, after suffering from colon cancer, her daughter said.
Christian starred as Vesper Lynd, the love interest of James Bond in the first TV adaptation of Ian Fleming's debut novel, Casino Royale, in 1954.
The actress's curvaceousness led Life magazine to nickname her the "anatomic bomb."
Born Blanca Rosa Welter in Mexico, Christian was discovered by Errol Flynn in Acapulco before pursuing an acting career in Los Angeles and eventually signing a contract with MGM.
She made her film debut alongside Danny Kaye in the 1944 musical comedy Up In Arms.
Five years later the actress married Tyrone Power, one of Hollywood's most popular leading men, but they divorced in 1956.
In 1953 the couple had a chance to work together in the leading roles of From Here to Eternity, but Power refused the part and neither ended up in the film.
Christian was later briefly married to English actor Edmund Purdom in the early 1960s.
During the same time she appeared in several European films including Elizabeth Taylor film The V.I.P.s as well as US TV shows including The Alfred Hitchcock Hour and The Lloyd Bridges Show.
The actress took a break from showbusiness for 20 years, returning in 1987 to appear in two Italian films.
Her last big screen appearance was in Italian TV movie Cambiamento d'aria in 1988.
She is survived by her two daughters, singer Romina Power and actress Taryn Power, and eight grandchildren.