Amy Winehouse tributes flood in from around world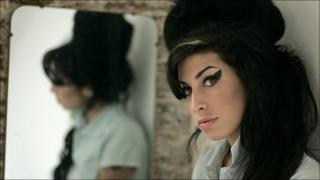 Tributes to the late singer Amy Winehouse are still being paid by artists, friends and family around the world.
The Back To Black star was found dead at her north London home on Saturday.
A post mortem was carried out on Monday to determine the cause of death and her funeral will take place on Tuesday.
The Brit and Grammy award winner had struggled with drink and drug addiction in recent years and had latterly spent time in rehab.
Singer George Michael
Amy was, in my opinion, the most soulful vocalist this country has ever seen.
And her album Back to Black was the best album I had heard since the 70s. No question.
It's a tragedy on two levels. Most important of course, the waste of such a young life and the pain of those who knew and loved her...
But it's also a tragedy for all of us that we won't be hearing the exquisite music that she would have given us if fate had spared her life.
I hope she is at peace now.
Singer Adele
Not many people have it in them to do something they love, simply because they love it. With no fuss and no compromise.
But she knew what she was capable of and didn't even need to try.
Amy paved the way for artists like me and made people excited about British music again whilst being fearlessly hilarious and blase about the whole thing.
Although I'm incredibly sad about Amy passing I'm also reminded of how immensely proud of her I am as well. And grateful to be inspired by her.
Producer Mark Ronson
She was my musical soulmate and like a sister to me. This is one of the saddest days of my life.
Producer Salaam Remi, who worked on Frank and Back To Black
Very Very Sad Day. Just lost a Great Friend and a Sister. RIP my baby SiS Cherry Winehouse. Love ya always.
Singer Tony Bennett
Amy Winehouse was an artist of immense proportions and I am deeply saddened to learn of her tragic passing. She was an extraordinary musician with a rare intuition as a vocalist and I am truly devastated that her exceptional talent has come to such an early end.
She was a lovely and intelligent person and when we recorded together she gave a soulful and extraordinary performance. I was honoured to have the opportunity to sing with her.
It had been my sincere hope that she would be able to overcome the issues she was battling and I send my deepest sympathy to her father Mitchell, her entire family and all of those who loved her.
Elbow singer Guy Garvey
Amy and I weren't close but we ran into each other at many significant points in our careers. I found her to be warm, shy, incredibly hard working and ultimately a very lovely girl.
The word soul is tossed around in music and has come to mean slick, cheesy, formulated and easy on the ear but Amy put so much of her sweet complicated, troubled and romantic self into that amazing music that she reclaimed the word.
Amy only ever sang her soul. I hope we can focus now on the music she has left us and not the details of her personal life. To those who tried so hard to rob her of her dignity, you failed.
Metropolis Music, Winehouse's management company
We will always remember Amy as a vibrant, funny, caring young woman who made everyone around her feel welcome. We have lost a very special person, part of our family.
US record label Universal Music
We are deeply saddened at the sudden loss of such a gifted musician, artist, performer and friend. Our prayers go out to Amy's family, friends and fans at this difficult time
Singer, songwriter and designer Lily Allen
It's just beyond sad, there's nothing else to say. She was such a lost soul, may she rest in peace.
Rolling Stone Ronnie Wood
It's a very sad loss of a very good friend I spent many great times with. We feel privileged to have known her and we will sorely miss her.
The Recording Academy
Five-time Grammy winner Amy Winehouse was a dynamic performer and musician who seamlessly blended rock, jazz, pop, and soul and created a sound all her own.
Her rich, soulful and unique voice reflected her honest songwriting and earned her a devoted fan following, critical acclaim, and the genuine respect and admiration of her musical peers.
She will forever be remembered for her immense talent, and her music will live on for generations to come. Our deepest sympathies go out to her family, friends, and fans during this difficult time.
Singer Carole King
She did such a beautiful performance on it [King's song Will You Love Me Tomorrow, co-written with Gerry Goffin]. I'm just grateful she gave that gift to Gerry and me and to the world. I just really hope that she's found peace now wherever she is.
Actor and comic Russell Brand
I've known Amy Winehouse for years. When I first met her around Camden she was just some twit in a pink satin jacket shuffling round bars with mutual friends, most of whom were in cool Indie bands or peripheral Camden figures Withnail-ing their way through life on impotent charisma.
I chatted to her anyway though, she was after all, a girl, and she was sweet and peculiar but most of all vulnerable.
I was myself at that time barely out of rehab and was thirstily seeking less complicated women so I barely reflected on the now glaringly obvious fact that Winehouse and I shared an affliction, the disease of addiction.
Singer Jessie J
The way tears are streaming down my face. Such a loss.
TV star Kelly Osbourne
I cant even breath right now I'm crying so hard. I just lost one of my best friends. I love you forever Amy & will never forget the real you.
CNN presenter and journalist Piers Morgan
Such desperately sad news regarding Amy Winehouse. Supreme talent, terrible self-destructive addictive personality.
BBC Radio 1 DJ Chris Moyles
Shocking terrible sad news about Amy Winehouse. Stunned. Thoughts go out to her friends and family."
BBC Radio 1 DJ Fearne Cotton
Can not believe the news. Amy was a special girl. The saddest news.
Daily Telegraph rock critic Neil McCormick
It's deeply sad. It's the most completely tragic waste of talent that I can remember.
Hawley Arms pub in Camden
We are shocked and deeply saddened by the news of Amy's death. Apart from her extraordinary musical talent, she was a special person with a good soul and this should not have happened. We feel privileged to have known her and we will sorely miss her.
Performer Dita Von Teese
Devastated. I spent extraordinary times with Amy. She sang for me once for hours, it was the most beautiful and touching thing. A huge loss.