Violinist Alina Ibragimova bewitches historic venues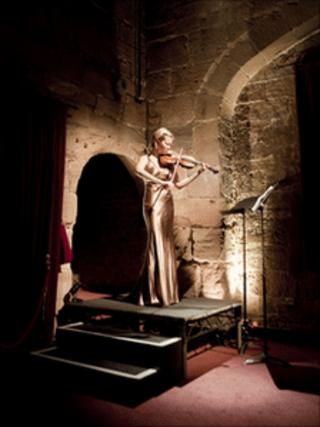 A collaboration between the mesmerising violinist Alina Ibragimova and cult US film-makers The Quay Brothers, which was a highlight of the recent Manchester International Festival, is now being staged in London.
While high-profile names like Bjork, Damon Albarn and Victoria Wood hogged the limelight at the Manchester festival, Ibragimova's performance in a medieval hall was one of the most unusual and exhilarating events in the schedule.
It saw Ibragimova perform tumultuous works by Bach, Berio, Biber and Bartok in the evocative 15th Century Chetham's School of Music.
Her performance of a violin sonata written by the Hungarian composer Bartok as he was battling leukaemia was accompanied by a haunting Quay Brothers film representing his restless reverie.
They are now staging the production in an equally atmospheric setting - the crumbling 19th Century Wilton's Music Hall in east London.
Ibragimova, 25, was described by The Guardian as "one of the most technically gifted and charismatic instrumentalists of the age" after the Manchester shows.
Born in Russia, she moved to England at the age of 10 and at 14 was the youngest ever winner of the Royal Philharmonic Society's Emily Anderson Prize for violinists.
She won a Classical Brit in 2009 and picked up the Royal Philharmonic Society's Young Artists award in May.
BBC Music Magazine put her on a front cover earlier this year, accompanied by the headline: "The new superstars."
You've been playing almost all your life - does it become a chore?
No, it becomes part of your life. You don't think of it as work any more. For me, a day off is being at home and practicing a little bit. Maybe not hours and hours, but without it, something's missing.
I've played pretty much every day since I was four, and it becomes your life. It's always been what I was going to do. I never saw myself doing anything else.
These pieces are pretty intense - when you're playing, are you caught up in the emotion of the music, or are you thinking about what you're having for dinner?
Hopefully not, although sometimes it does happen unfortunately. It does happen that your mind wanders.
But what I love is that, with some bits in the music, suddenly you feel a certain emotion that you didn't realise before and it just happens there in moment, and only in the performance with the audience there. That's what I love about performing.
You look like you're at the centre of the whirlwind - is that how it feels?
I like to think the performances where I feel the most are my best ones, although sometimes I've played something and I was tired or whatever and it was fine, but I didn't give my everything. And yet members of the audience would come back in tears and love it.
And I never know what the audience receives of what I'm feeling, or whether they receive something different depending on them - what mood they're in, what their experiences are.
Does it take a long time to shake off that mood? Does it affect you outside the performance?
It probably does. The film is starting to haunt me now. I'm dreaming about the little girl. That's starting to play on my mind a little bit. I suppose I change depending on what I play, without even realising it.
Is accompanying a film a very different experience for you?
Yes, definitely. I spend most of my life playing with other people, and I love that dialogue.
I can deal with the film in a way that I want to and decide what it's about for me. Somehow the music is what's going on in Bartok's head when he's seeing all these images, with all the emotional pain inside that never comes out.
What violin do you play?
Most of the time I play my Pietro Guarneri which was made in Venice in 1738. It's a beautiful instrument.
A violin has to be something you feel you have a connection to. For a violinist, their violin is their voice. It's pretty tough to find exactly what you're looking for.
Do you get nervous before performances?
No. When I was 11 or 12 I used to get really nervous and almost ill before concerts. So at the age of 12, I decided that I wasn't going to get nervous any more. For some reason when you're 12 you believe that and it works.
Some classical acts in recent years have promoted their image as much as their music to reach the widest audience - have you felt any pressure on your image?
Sometimes I get asked to do things which I just find a little bit irrelevant and don't really connect with what I'm doing, so I don't do them.
Now it's better but a few years ago there was a lot of prejudice against women in particular who looked good. It's been assumed that they must not be that great [players]. They had that kind of pressure I'm sure.
And yes it's true with some performers their looks help them, but I have many beautiful women friends who are fantastic and deserve just as much respect as an older experienced man.
Did you feel that prejudice?
I didn't at all but I think I've seen it around a little bit and I've seen people judging artists unfairly because of that and I don't think it's nice.
Alina Ibragimova and The Quay Brothers, co-commissioned by the Manchester International Festival, Barbican and Create, are at Wilton's Music Hall from Monday to Wednesday.