Beatles pictures fetch £224,000 at auction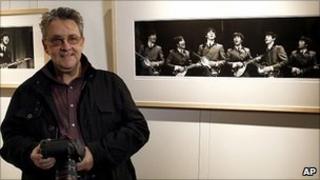 Photographs of The Beatles' first US concert, in Washington DC, have sold at a New York auction for $362,000 (£224,000).
Photographer Mike Mitchell took the pictures at the Washington Coliseum gig in 1964, when he was 18 years old.
The 50 silver gelatin prints, which were all sold individually, had been estimated to raise $100,000 (£62,000).
Photos of the Fab Four's second trip to the US that year, in Baltimore, were also sold at the Christie's auction.
Among the highlights of the sale was a backlit shot of the band that Mr Mitchell took while standing directly behind them, which sold for $68,500 (£42,300) - well above its pre-sale estimate of $2,000-$3,000 (£1,200-£1,900).
An image of Ringo Starr, capturing a rare moment as both drummer and lead singer, also sold for $8,125 (£5,000).
Christie's Cathy Elkies, said she expected bids to exceed pre-sale estimates.
"Beatles fans are fierce. To uncover this trove of images that's never been published will really excite people," she said.
The Beatles played their first US concert on 11 February 1964, two days after making their TV debut on The Ed Sullivan Show.
Mr Mitchell, who is now 65, used digital technology to scan and restore the prints for the auction, after storing the negatives for nearly 50 years in a box in his basement.