Simon Fuller sues US X Factor producers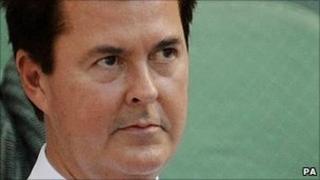 Music mogul Simon Fuller has sued the US TV network Fox, seeking a credit and fees for the forthcoming US version of The X Factor.
He claims the News Corp broadcasting company, and producers FremantleMedia North America breached a 2005 contract.
Fuller, who created American Idol, claims he was promised an executive producer credit on the rival show.
Fox and Fremantle insist Fuller "has not been hired, nor performed any duties" on the programme.
The spokesperson for both companies added: "We believe this lawsuit is without merit and we expect to prevail."
Fox broadcasts both American Idol and the US version of The X-Factor, and FremantleMedia is producing both shows.
'Copyright infringement'
Fuller's spokesman said the legal action was filed in Los Angeles Superior Court, after the relevant parties were unable to settle the matter privately.
The case follows a dispute between Fuller and Simon Cowell in 2004 over similarities between Fuller's American Idol talent show and Cowell's UK show, The X Factor.
Fuller sued Cowell for copyright infringement, over claims The X Factor copied the format of Fuller's show, Pop Idol - the original forerunner to American Idol.
Fuller claims the case was settled in 2005, after it was agreed that X-Factor would not air in the United States until 2011, that Cowell would remain a judge on American Idol for five more seasons, and that Fuller would be granted an executive producer credit on Cowell's show if it ever aired in the United States.
"Despite the clear agreement to grant Fuller an executive producer credit and to pay him an executive producer fee, defendants have refused to honour their obligations and have further refused to negotiate in good faith," Fuller's current legal action states.
The X Factor premieres in the US on 21 September, and marks the return of former American Idol judges Cowell and Paula Abdul, who left as judges on the talent show in 2010.