BBC praised for science coverage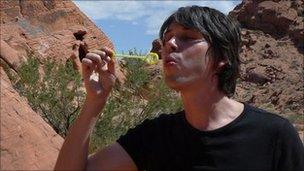 BBC science coverage is of "high quality and significant quantity", an independent review has found.
But the report, by genetics professor Steve Jones, said the BBC "must make a distinction between well-established fact and opinion".
Attempts at balance were giving "free publicity to marginal opinions", the BBC Trust-published report said.
The BBC, which has announced a new science editor role, welcomed the "generally positive assessment".
The report praised "a thriving and improving genre of programming which is well established across a wide range of BBC services".
Its accuracy was "exemplary", it added.
It also found that one in four broadcast news items was science-related with BBC One's Panorama and Radio 4's Today programme providing particularly strong output.
But it found that, where there was consensus on scientific matters, providing an opposite view without consideration of "due weight" could lead to a "false balance".
This meant viewers "might perceive an issue to be more controversial than it actually is".
Prof Jones cited issues including global warming, MMR vaccines and GM foods.
He said the BBC "still gives space" to global warming sceptics "to make statements that are not supported by the facts".
He added that, for years, "the climate change deniers have been marginal to the scientific debate but somehow they continued to find a place on the airwaves".
"Equality of voice calls for a match of scientists, not with politicians or activists, but with those qualified to take a knowledgeable, albeit perhaps divergent view of research," he said.
The report said that, when opposite views were deemed appropriate, the BBC "must clearly communicate the degree of credibility the view carries".
It also found that the links between science programme-makers across the BBC was "underdeveloped, meaning that internal expertise is not sufficiently exploited".
And it said the range of sources for stories was too narrow and overly-reliant on press releases.
She said Prof Jones' findings did not mean that "in future we will, for example, not interview climate change sceptics".
She said some scientific stories "should be presented as a debate purely and simply within the scientific community".
"There will be others when it is appropriate to broadcast a range of views, including some from non-experts, because science cannot be divorced from the social, political and cultural environment in which it operates," she added.
On those occasions, the BBC must explain to audiences "whether they are scientists, policy-makers, lobbyists or whether they are taking an ethical stand".
She also confirmed the creation of the role of science editor "to bring a new level of analysis to science coverage, strengthen our contacts, and help us to take an overview of our coverage".