Setting the stage for Batman, Take That and Lady Gaga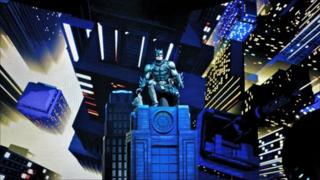 Batman Live, an elaborate arena show starring the caped crusader, has begun its world tour in Manchester.
Gotham City has been created on stage by set designer Es Devlin, who has also made live landscapes for Take That, Lady Gaga and the Royal Opera House, and is now working on the 2012 Olympics.
A city filled with 12ft skyscrapers, an Alice In Wonderland-style mansion and an eerie lunatic asylum are among the sets created by Devlin that, together with big screen graphics, are the backdrops for Batman's adventures.
"It's a bit like a big 3D film experience, only instead of putting on the 3D glasses you have people and props and objects popping out of the screen," she says.
While working on Batman Live, Devlin was also busy dreaming up sets for Take That's record-breaking Progress stadium tour, The Trojans for the Royal Opera House and the Olympic Games closing ceremony.
Meanwhile, her worlds have been put on stage in Bellini's opera, I Puritani, in Geneva and Mike Figgis' Lucrezia Borgia for the English National Opera this year.
And she has worked on Lady Gaga's Monster Ball tour, major shows by Muse and Kanye West and dance productions at Sadler's Wells.
Few people straddle such a spectrum of cultural pursuits, spanning theatre, pop and opera, with brows both high and low.
A sense of imagination links all her creations, says Devlin. And with her work in demand, it is imagination to a deadline.
"I will lie in bed until I've had an idea," she says. "Sometimes I won't get up until I've had an idea. I will not leave that spot. Which, with two children, one of whom's only 18 months old, can be a bit of a challenge."
Speaking the day before the Batman premiere, she has just been e-mailing new stage designs to hip-hop star Kanye West, who has been e-mailing them back with scribbled amendments.
"I know that by the time New York wakes up I have to have drawn a picture of what Lenny Kravitz's set is going to look like," she adds. "The show has got to start being built tomorrow. I have to have an idea. And that's that."
Devlin started her career in theatre and broke into the world of pop in 2005 when Kanye West asked her to come up with a set for his tour just 10 days before the first date.
She designed Lady Gaga's first major tour, which began in 2009, and praises the singer's drive and cultural appetite.
"She was really well versed in theatre - her references are as wide as many of the opera directors and theatre directors that I work for," Devlin says. "She really knows her stuff."
The stage "looked stunning but to be honest didn't really work", she now admits.
"I think she felt a bit trapped in the box that I designed for her. It was a very sloping stage and her heels… there was one moment where she fell off it."
Devlin first worked with Take That on their Circus tour in 2009 - which included a giant mechanical elephant - and is on board again for their current Progress stadium tour, which played to 1.8 million people on its UK dates alone.
The centrepiece of the tour, which ends in Munich on 29 July, is a giant animatronic man who stands up and moves into the middle of the stadium as the show goes on. Or he is supposed to.
"So far there have been two occasions where it didn't stand up," Devlin says. "Every other night, although it might not have done exactly the hand movements we'd programmed on two or three nights, as an audience member you wouldn't have known."
Downsides to working with pop stars include their hectic schedules. "These people have barely time to go to the toilet, and if they phone you they often are going to the toilet because it's the only moment they've got," Devlin says.
"You therefore have to accept that you're going to get feedback whenever they can squeeze it in, and you're going to have them changing their minds and thinking of ideas very late in the day.
"Don't go into it if you're not prepared for them to walk in and say 'actually can I have something completely different?' And you just have to rock on. There's another good idea around the corner, let's sit down and have one before we need to feed the children."
With Take That's creative director Kim Gavin, Devlin has just presented the preliminary plans for the Olympics closing ceremony to Games organisers.
"We have the whole shape of it mapped out," she says. "I think it's going to be an extraordinary celebratory event."
The project has caused Devlin to think about Britain's "anxiety" about national identity and national pride, she says.
"I think it's an issue," she says. "I think it's an interesting area to explore. What do we think about the union jack? We feel uncomfortable about it."
As a result, the designer has been doing "immense research into the uses and abuses of that potent little collection of red, white and blue lines and triangles", she says.
The ceremony could be a chance to have "an impact on how we feel about that flag, and how we feel about national identity", she believes.
But whatever the ceremony involves, there is one overriding priority. It must work.
"You've got one moment. You can't have something that might not work."
Batman Live is at arenas across the UK and Ireland until October.