Fifth of museums hit by 25% funding cuts, finds survey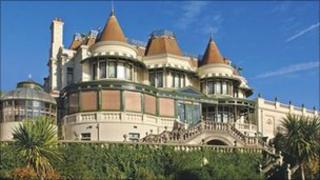 A fifth of UK museums have had their funding cut by at least 25% in the past nine months, a survey has shown.
Some 140 museums took part in the Museums Association's study to assess the impact of the government's Spending Review in October.
Museums reported reducing opening hours and axing jobs as a result of the cuts.
"Local authorities that make devastating cuts to museums of over 25% impoverish their communities," said Museums Association's Mark Taylor.
Some 58% of those surveyed said they had suffered cuts in some form.
Of those hit by cuts in excess of a quarter of their overall budget, 86% said they had cut staff, while half had reduced their opening hours.
Nearly half of all respondents also believed the quality of their service will worsen over the next year.
It was noted that almost 50% of institutions had a larger number of volunteers to make up for cuts in staffing levels.
'Short-sighted'
"The survey shows it's a myth that you can cut funding without affecting front-line services," Mr Taylor said.
"Services have been cut and opening hours restricted - there's a risk that in some cases, the doors will be slammed shut forever."
Some museums have already closed as a result of council spending cuts including Stamford Museum in Lincolnshire which closed last month.
Other museums have been forced to start charging entry fees in a bid to generate income including Bournemouth's Russell-Cotes Museum.
The survey covered England, Wales, Scotland and Northern Ireland, including national museums and local, independent, military and university museums.
One museum worker at a local authority museum in the West Midlands commented in the report: "The decisions have been short-sighted, knee-jerk reactions, panicking to meet the cuts required by councillors."
'Favourable settlement'
However some 10% of respondents, said they felt the changes enforced by the cuts were overdue and had been, in part, beneficial.
"I do not think that the changes could have been avoided. Service has to become 'smaller but better'," one museum manager in Yorkshire said.
An education offer at a Scottish museum added: "It has made us reconsider what we offer for visitors and attempt to improve our museums and what they offer."
A spokesman for the Department of Culture, Media and Sport said the government had protected national museums with a 15% real-terms reduction, which was "a very favourable settlement compared with other areas of public spending".
"This survey also shows that many local authorities are still finding it possible to maintain museum services," he said.
"We urge those that are yet to take decisions to consider the positive contribution that museums make to people in towns and cities across the country and consider the creative and innovative ways to deliver cultural services," he added.