BBC annual report reveals fall in star pay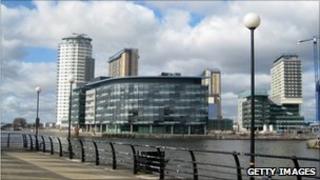 The BBC has revealed for the first time how many of its TV and radio stars earn more than £500,000 a year.
The corporation's annual report says 19 stars were paid more than £500,000 in the year to March 2011, two fewer than the year before.
The total paid to stars earning more than £1m was £14.6m - 14% lower than the year running up to March 2010.
Overall spending on talent was down £9m - 4% - to £212m to March 2011. Executive salaries were also down.
The BBC lost two of its most expensive stars when Adrian Chiles and Christine Bleakley defected to ITV.
Just over £100m was spent on talent salaries up to £50,000 for more than 50,000 individuals.
The BBC said that, as well as including full-time salaried staff, that category could include, for example, an extra who made one appearance in EastEnders.
Some £7.39m was spent on presenters earning between £500,000 and £999,999.
But the details on star pay fell short of those requested by the former BBC Trust chairman, Sir Michael Lyons.
A year ago, Sir Michael asked for the number of presenters and other top talent to be published in narrower bands, as recommended by the Culture, Media and Sport Select Committee.
He wanted the numbers of top talent to be broken down in the top three bands - £1m to £5m, £750,000 to £999,999 and £500,000 to £749,000 - but they have been grouped together in the report, so that the only information available is that 19 people earned more than £500,000.
The BBC's media correspondent, Torin Douglas, says lawyers advised the BBC that individuals might be identified if they broke down the figures into smaller bands.
This would then risk breaching confidentiality agreements between the BBC and its stars.
New BBC Trust chairman Lord Patten said the corporation was not "hiding" anything and there was "no fundamental human right" for the public to know about a celebrity's pay packet".
He praised the "quality and breadth of programming the BBC provides" adding that "of course the organisation isn't perfect" and faced financial challenges.
"As well as stretching efficiencies, this will mean some tough choices - the trust is clear that the BBC must retain distinctive and high quality content in areas that matter to audiences," he said.
"We're working hard with the Executive on the detail of how the new licence fee will be implemented, and will share these plans with the public as soon as possible."
BBC director general Mark Thompson added: "I am proud when I look back and see a year that delivered great entertainment like South Riding and Miranda, impartial journalism in our coverage of the General Election, powerful current affairs and documentaries like Panorama's expose of corruption at Fifa, and the marvellous Wonders of the Universe."
The report shows that BBC content is accessed by 97% of the UK population in any one week, the same percentage as last year.
From May 2011, the BBC's current executive board members earn £2.7m per year. This is a fall of 43% on executive salaries paid in 2009/10.
The fall in current executive pay is largely due to the board having seven members instead of 10.
On a like-for-like basis, the average executive board member at the BBC now receives nearly a quarter less pay and remuneration than a year ago.
Each board member had also agreed to cutting one month's pay for two years running - so the actual figure drops to £2.55m.
Director general Mark Thompson's salary fell by 27% - in last year's annual report, Thompson was shown to have earned £838,000, including pension top-ups.
But his salary during the year to May 2011 was £671,000 - he also gave up one month's pay, which resulted in a final figure of £615,000.
Former deputy director general Mark Byford, marketing head Sharon Baylay and technology chief Erik Huggers left the BBC and were replaced by three new members - Helen Boaden, George Entwistle and Ralph Rivera, who are paid on average 33% less than their predecessors.
Peter Salmon, director of BBC North, Lucy Adams, director of BBC People and Jana Bennett, president of BBC Worldwide, all stepped down from the board.
But other expenditure, including redundancy pay-outs for former members of the board, meant the total paid to the executive board actually went up during the year to March 2011, from £4.8m to £5.7m.
Byford left with a £949,000 payout, while Baylay, who joined the BBC in May 2009 and left in November 2010, was paid £392,000.
Senior management pay has also fallen - by June 2011, there were 540 senior managers at the BBC, down from 614 in the year from 2009/2010.
Lord Patten has said this figure will be reduced further to about 200 by 2015.
This will partly be achieved by re-grading posts although some posts will also be closed.
By the end of the year, the senior management bill will be £60m - a £20m saving in two years.
On average, new senior managers are paid 8.7% less than the previous post holder.
In his speech to the Royal Television Society earlier this month, Lord Patten made clear that he wanted to curb BBC management pay.
Steve Hewlett, who hosts BBC Radio 4's The Media Show, said the reports show that the BBC are "clearly serious about reducing the number of people designated in middle management".
The corporation is facing cuts of at least 16% after it was announced in October that the licence fee would be frozen for six years and the costs of the World Service were transferred to the BBC.
BBC Worldwide's headline profits were up 10.3% to £160.2m - its highest level ever. The growth helped lift the overall return to the BBC by nearly 9% to £182m.