Lost Leonardo Da Vinci painting to go on show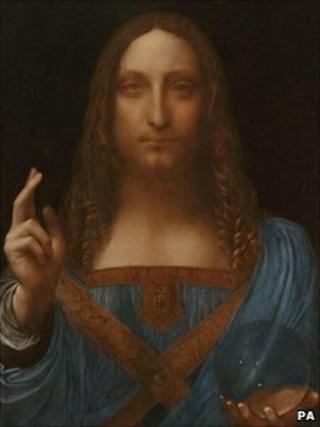 A rediscovered oil painting by Leonardo Da Vinci is to go on show at the National Gallery in November.
Salvator Mundi, meaning Saviour of the World, dates to around 1500 and depicts a figure of Christ holding an orb.
The work was long known to have existed, but had been presumed to have been lost or destroyed.
The painting will be displayed as part of the gallery's Leonardo da Vinci: Painter of the Court of Milan exhibition from 9 November.
The recently authenticated work was once owned by King Charles I and recorded in his art collection in 1649 before being auctioned by the son of the Duke of Buckingham in 1763.
It next appeared in 1900, damaged from previous restoration attempts and its authorship unclear, when it was purchased by a British collector, Sir Frederick Cook.
Cook's descendants sold it at auction in 1958 for £45 and it was acquired by a US consortium of art dealers in 2005.
After undergoing extensive conservation treatment last year, it was determined to be an original Da Vinci work.
It is now estimated to be worth around £120m.
The last time a Da Vinci painting was discovered was in 1909, when the Benois Madonna came to light.
The piece is currently on display at the Hermitage in St Petersburg.