Ryan O'Neal sued over Andy Warhol Farrah Fawcett art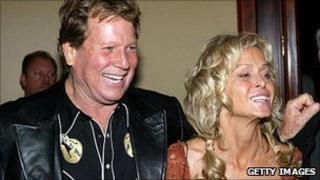 Actor Ryan O'Neal is being sued by the University of Texas over the ownership of an Andy Warhol portrait of his late longtime companion, Farrah Fawcett.
The university has asked a Los Angeles judge to order the Oscar-nominated star to hand over the painting it claims the actress bequeathed its Austin campus.
O'Neal's spokesman said the portrait was one of two Warhol made of the Charlie's Angels star in 1979.
Arnold Robinson added the legal action was "completely ridiculous".
The university had hired investigators to track down the Warhol portrait,. However, its whereabouts was discovered after O'Neal's current reality TV show revealed it to be hanging above his bed at his Malibu home.
In a statement, Mr Robinson said the university had known for more than a year that the actor had the painting, which is thought to be worth $30m (£18.7m).
"Ryan O'Neal's friendship with Andy Warhol began 10 years prior to his meeting Farrah Fawcett," Mr Robinson said.
"When Ryan introduced Andy to Farrah, Mr Warhol chose to complete two portraits of her, one for Ms Fawcett and one for Mr O'Neal.
"Mr O'Neal looks forward to being completely vindicated in the courts."
The University of Texas wants O'Neal to purchase insurance for the painting, and properly preserve it so that it can be turned over if the lawsuit succeeds.
It is also seeking undetermined financial damages from the Love Story actor, but states the Fawcett portrait is priceless.
"The enduring value and public interest in the Warhol portraits is a testament not only to Mr Warhol's talent and artistry, but also to Ms Fawcett's status as a cultural icon," the university said in legal papers.
"The Warhol portrait is an irreplaceable piece of art for which legal damages could not fully compensate."
The legal action also claims the actor may be holding on to other pieces from Fawcett's art collection that she wanted the university - which she attended in the 1960s - to have after her death.
Farrah Fawcett died of cancer in June 2009, aged 62.