On Ofcom and the Seventh Sun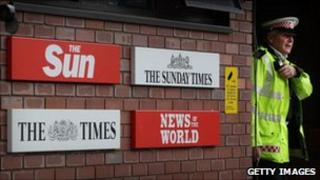 Here are some loosely connected musings on one of the most astonishing media and corporate stories of our age.
1) As I have said before, only the media regulator Ofcom can review whether News Corporation is a fit and proper owner either of it's current 39% stake in British Sky Broadcasting, or the 100% it wishes to own. Its current plan is not to conduct such a review until the police have finished their investigation of what went wrong at the News of the World.
Is such a potentially long delay to such a review - months certainly, possibly years - sustainable, in the face of the torrent of submissions to the culture secretary calling for the deal to be stopped?
Critics of the deal - and others - think it would be really odd for that Ofcom review to take place after News Corp had acquired all of BSkyB, which is certainly possible on the current timetable.
Would it make sense for Ofcom to expedite a probe into whether News Corp remains a fit-and-proper owner of a broadcasting business in the light of the disclosures of the inadequate management by News Corp of the News of the World?
2) News Corp's UK subsidiary, News International, had been reviewing whether it would need to close the News of the World for some days. But the decision was only taken yesterday, by James Murdoch, when he was given a range of options to consider by his executive team.
It was, therefore, very much James Murdoch's decision - probably the most important of his career.
"In a crisis, he was immensely impressive", said one of his colleagues. It will take time to assess whether this was the right decision.
3) My discussions with those at News International lead me to be certain that the hole created by the demise of the News of the World will be filled with a seventh day Sun. But I am told that the definitive decision to launch that new Sunday tabloid has not been taken.
There is strong commercial logic to such a launch - because presumably Seventh Sun (a cleverer name than The Sun on Sunday; Mr Murdoch can apply to me for the rights) would have considerably lower overheads than the News of the World and would be well placed to pick up the News of the World's orphaned readers and advertisers.
But because the commercial logic is so strong, News International may have to be careful not to be seen to be rushing into the launch.
Presumably Rupert and James Murdoch would not wish the idea to gain currency that the reputational debacle at the News of the World was simply a convenient cover for launching a paper and online product more suited to the mores and technology of our age.