Film poster artists revive a dying craft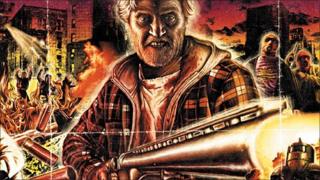 There is little doubt that the B-movie exploitation storyline and graphic violence implied by a film title like Hobo With A Shotgun will leave most moviegoers cold. However, there is no denying the artist's skill that has gone into the film's poster art.
And for the most part, the film blogging community agrees, simply describing the work with an oddly appropriate "badass".
A snarling Rutger Hauer dramatically wields the large titular shotgun while elsewhere a man holds a woman hostage, a crowd riots and two other figures emerge from the flames dressed in futuristic-looking protective suits.
Out in cinemas this week, the film grew from a spoof trailer used in Quentin Tarantino's double feature Grindhouse.
Tom Hodge, aka The Dude Designs, is the British artist behind the poster. He is trying to revive what is becoming viewed by those within the industry as a dying art.
"I am a massively frustrated film-maker, so this allowed me to bridge that gap - if I can't do it in film than I'll do it in design and illustration," he says.
Following in the footsteps of classic poster artists like Richard Amsel and Drew Struzan - the men behind such iconic posters as the Indiana Jones series, The Goonies and Back to the Future - Hodge is one of a handful of British artists working within the same medium.
Digital art
Posters were hand-painted by those artists during the heyday of the 70s and 80s, but the techniques have moved with the times.
"I do everything digitally, so it was a big learning curve to start drawing on the computer. Halfway through, I was still using a mouse and then I got into using tablets which use a pen. I was like, 'Why didn't I do this sooner?'
"It keeps costs down because if I was to paint on canvas, there's the paint, you have to photograph it, you might have to make changes and the costs mount up."
"It's illustration but using modern technology," says British poster designer Graham Humphreys.
"It's interesting how you can actually make something which has in theory killed off the illustrated poster and yet somehow is now responsible for bringing it back."
Since graduating from Salisbury College of Art in 1980, Humphreys has gone on to create some of horror cinema's most enduring images.
Idealised version
The clawed hand of Freddie Krueger reaching over the sleeping face of a young girl in the poster for Nightmare on Elm Street? That was Humphreys - as was the original poster for Spider-Man director Sam Raimi's debut movie The Evil Dead.
Whilst major studios seem to be using fewer illustrated posters, in favour of cheaper-looking Photoshop-produced montages of the film's stars - horror studios have persevered with the medium.
Humphreys adds: "It disguises the limitations of the film and its budget. It offers an idealised version of the film."
But why is there a reluctance to use illustrated posters? Director Frank Darabont blames "marketing gerbils" in the foreword to Drew Struzan's book, The Art of Drew.
Struzan himself says: "When the suits leave me alone, the best work comes out to shine."
Hodge believes the financial issues involved in commissioning an artist can be prohibitive. "Cost is a big thing. If you do commission an illustrator to do a poster there's a bit of a leap of faith."
However, he adds: "I think studios feel that movie audiences won't get an illustrated poster, that they'll think it's a cartoon."
Humphreys agrees, citing a recent experience: "I did a poster for a low-budget thriller and we did an illustrated poster. The guy wanted a 70s pastiche with all the cliches, bloke with a gun, screaming lady and stuff. It gives the veneer of something quite classic and timeless.
"It was presented to a potential distributor in America who got very confused by it - they asked if it was a cartoon."
Some of the worst Photoshop-made posters may look like they have been put together over the course of an afternoon. However, Humphreys - who has himself worked on photo montages - says the gestation period can be anywhere up to a year.
"The idea being that while they're shooting, it's much more cost-effective to photograph the actors in costumes while they're still on set," he says.
However Humphrey admits "about 60% of the posters out there are body doubles, just heads stuck on and we do a lot of that as well".
British film-maker Jake West has directed low-budget horror films like Evil Aliens and horror comedy Doghouse, starring Danny Dyer and Kidulthood's Noel Clarke.
He favours a return to the work of an artist over the current trend of using bad photographs and body doubles.
"I think it gives the film an identity which you don't get from a photo montage. It gives it a key image which you relate to.
"There are so many posters like Star Wars and Jaws that are burned into my mind just because of the look. It inspires your imagination.
And what of the future? Hodge believes that it is time poster artists are recognised for their contributions to popular culture.
There are signs it may already be achieving some recognition - in April the work of the late Bob Peak, who illustrated posters for the likes of Superman, Star Trek and Apocalypse Now, went on show at the Academy of Motion Picture Arts and Sciences in the US.
And last year, illustrated Polish-language versions of Hollywood posters went on show at a London gallery.
Hodge says: "I do feel that a lot of art now is quite elitist. This is art - maybe it's questionable some of the things it says and the issues it deals with but I'd love to expose this art to a new level.
"Its almost like a twisted kind of pop art - I think Warhol would approve of it."
Hobo With A Shotgun is in cinemas now and is released on DVD and Blu-ray on 1 August.