Damien Hirst serves up restaurant art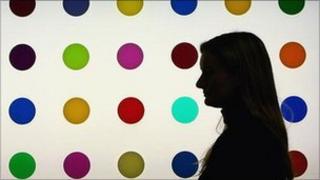 Damien Hirst's Pharmacy restaurant, in which diners were surrounded by the artist's works, is to be celebrated in a new exhibition.
Hirst opened the fashionable restaurant in London's Notting Hill in 1998, but it closed down in 2003.
The contents were auctioned for £11m the following year.
Leeds Art Gallery has gathered neon art that hung on the walls, skeletons that greeted diners and wine cabinets for its exhibition, which opens on 15 July.
Pharmacy was once a favoured haunt of the rich and famous, with bar stools shaped like paracetamol tablets, floor-to-ceiling glass cases filled with empty medicine bottles and a large molecular structure representing Hirst's DNA.
Sotheby's sold the contents after the restaurant closed, with bidding ranging from £1,920 for a pair of salt and pepper shakers to £1.2m for a giant mock medicine cabinet.
Hirst has been involved in planning the Leeds exhibition, which features the Pharmacy medicinal-themed wallpaper as well as a number of tables laid as they were in the restaurant. Food will not be served.
"It's not a replication of the restaurant but I suppose it's an echo of how it was," said curator Nigel Walsh.
The exhibition will be Hirst's first major show in Leeds, where he grew up and went to art college.
It will also feature his photo With Dead Head, in which a grinning Hirst, aged 16, posed with a severed human head in the pathology unit at the city's university.
Other iconic works from his career will include Away from the Flock - his sheep suspended in formaldehyde - and a 1994 spot painting.