Noel Gallagher takes flight without Liam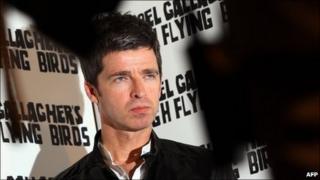 Musician Noel Gallagher has announced the details of his first solo album since quitting Oasis in 2009.
"It's not very guitar hero. There isn't a guitar solo until the sixth track," he explains.
The 44-year-old, who played lead guitar alongside his brother Liam in the band for 18 years, says his new material is very different.
High Flying Birds features 10 tracks, which were recorded in London and Los Angeles over the last 18 months.
There will be a tour shortly after the release of the album in October, with the opening gig in Dublin.
A second as-yet-untitled collaboration with Amorphous Androgynous will follow next summer.
Although the newly-married star says commercial success does not worry him, he admits he is slightly more anxious about how fans will take to his new material.
"I'm just assuming that fans of Oasis will like it because I was the main songwriter," he says.
"I wrote every song for that band so I'm assuming they will like some aspects of it [the new album].
"But if it comes out and journalists slate it, it doesn't mean anything any more. With the internet, everybody is a journalist now, everybody is a critic, everybody reviews albums.
"I think they'll like it otherwise I wouldn't be putting it out."
While the London press conference was set up for Gallagher to talk about his solo career, it did not take long for reporters to ask about the state of his relationship with Liam.
The pair fell out two years ago just before a gig in Paris and have not spoken since.
"I had a sweepstake on how long it would take," Gallagher laughs, when the first question was put to him just two minutes into the event.
The guitarist explains how the brothers' row escalated after Liam cancelled their V Festival slot "because he had a hangover", although the official reason given at the time was that he was suffering with laryngitis.
Tension only increased after Liam apparently demanded free advertising space for his clothing label in the band's tour programme.
"I didn't think it was right for him to be flogging his gear to our fans. There was a massive row about that," Gallagher says.
'Unnecessary violent act'
"That night Liam kind of stormed out of the dressing room. On the way out he picked up a plum and he threw it across the dressing room and it smashed against the wall," Gallagher explains.
"Part of me wishes it had finished like that because that would have been a great headline: 'Plum throws plum,'" he laughs.
But Gallagher's demeanour changes when he describes how the row suddenly took a turn for the worst and Liam returned wielding his guitar "like an axe".
"It was a real unnecessary violent act. He was swinging this guitar around and he nearly took my face off," Gallagher says.
Just minutes before the concert was due to start the guitarist says he walked out and refused to return.
But in hindsight Gallagher admits he regrets doing that.
"If I could have the time again I'd have gone back and done the gigs. I'd have done that gig and I'd have done the next one and we'd have all gone away and we could probably have discussed it.
"We may never have split up. Liam always said he'd bring down Armageddon, that's the kind of way he likes things to be.
"He doesn't like me in a violent way. I don't get on with him but he takes it to a [new] level. There's no point in being in a band with people you fight with. I kind of did everybody a favour."
Liam went on to launch his own band Beady Eye and the group released their debut album, Different Gear, Still Speeding, earlier this year.
Although Gallagher says he has not heard the album in its entirety, he has read some of the reviews.
"I've got to say it's got better reviews that any of you gave our Oasis albums," he tells reporters. "You can't begin to imagine how annoying that is.
"He [Liam] is probably better off without me because he's in charge. It remains to be seen if I'm better off without him."
Noel Gallagher's High Flying Birds is due to be released on 17 October.