BBC News staff vote for industrial action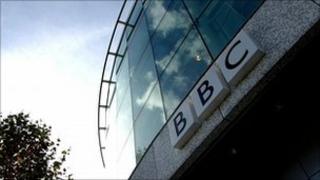 Members of the National Union of Journalists at the BBC have voted in favour of taking industrial action over compulsory redundancies.
With a turnout of less than 40%, 72% said they would be prepared to strike.
The ballot was called because the union says BBC bosses dismissed a World Service journalist on the grounds of compulsory redundancy.
Director of BBC News Helen Boaden said the BBC had "done all we can to reduce the number of compulsory redundancies".
In January, BBC staff were told that five language services of the World Service would be closing with the potential loss of up to 650 jobs.
The cuts followed a 16% cut in the Foreign and Commonwealth Office (FCO) grant for the service.
'Viable redeployment'
On Tuesday, Ms Boaden wrote in an email to staff that the number of posts that would be closing in World Service and BBC Monitoring would be 387.
She said managers had tried to reduce the number of compulsory redundancies by offering voluntary redundancy and redeploying staff elsewhere.
"In the World Service, so far we expect 66% of staff whose posts are closing to take voluntary redundancy or be redeployed," she said.
"In BBC Monitoring this figure is 33%."
In a motion passed on Tuesday afternoon, the NUJ said the World Service member had been made to take compulsory redundancy "despite viable redeployment options being available".
It called for no compulsory redundancies among NUJ members and said there were "workable solutions in all cases".
The motion also condemned the BBC for not using a recently-announced £2.2m FCO grant to the World Service for the next three years "to halt all compulsory redundancies".
NUJ general secretary Michelle Stanistreet said the result showed NUJ members at the BBC "will not accept compulsory redundancies".
"Today's result demonstrates that members at the BBC are fully prepared to stand up for their colleagues under threat.
"If the BBC wants to provoke a strike over such small numbers it would be shameful.
"We call on the BBC to get round the table with us and sort it out."
Ms Boaden said the BBC would "continue with our efforts to limit the number of compulsory redundancies".
"Our financial position means that we are unable to agree to the NUJ's demands for no compulsory redundancies and delaying taking action now means that we would have to make even more savings in the future, potentially costing more jobs," she said.
She added that "regrettably, the extra funding for the World Service announced last week is is on its own not enough to allow us to avoid having to continue with this process".
BBC journalists went on strike in November over planned changes to their pensions.