Duran Duran postpone European tour dates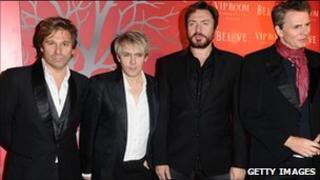 Duran Duran have postponed their European tour - including three UK festival dates - because of Simon Le Bon's ongoing voice problems.
In May the band announced they were postponing UK tour dates after doctors ordered Le Bon to rest his voice.
The 52-year-old, who has been told to undergo physiotherapy treatment, said it had been an "extremely difficult decision to make".
The band said they hope to reschedule the dates.
Doctors believe Le Bon damaged his voice during a performance in Cannes, in May, which caused him to temporarily lose the top part of his vocal range.
Le Bon said his injury was "an internal one and so no one can tell me exactly how long it's going to take to mend completely".
"I need to take some more time away from shows to get back to full strength," he added.
"If we knew exactly when that might be, we wouldn't have to let this entire run of dates go, but what we feel we can't keep doing is moving shows piecemeal as it's just not fair on the fans."
He said his voice problems "couldn't have come at a worse time".
"I am doing everything I can to work through this and get back on track as soon as possible."
The tour had been due to kick off in Dublin on 14 July, ending in Paris on 12 September.
Duran Duran had been due to play at the iTunes Festival in London on 16 July as well as at V Festival dates in Stafford, on 20 August, and in Chelmsford, on 21 August.