Obituary: David Jacobs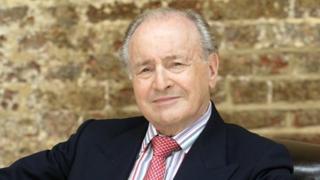 For more than seven decades, David Jacobs' urbane charm made him a much loved figure on radio and television.
On radio, he presented a number of music programmes, including Melodies For You, Music Through Midnight and Housewives' Choice.
And he proved he could also handle current affairs, hosting the BBC's Any Questions for 17 years.
His TV work included being one of the founding presenters of the corporation's Top of the Pops, hosting the record show Juke Box Jury between 1957 and 1969, and doing a stint as the voice of the Eurovision Song Contest.
In between all this he managed to fit in some acting.
David Lewis Jacobs was born in Streatham Hill, south London, on 26 May 1926.
He left school at 14 and had various jobs, including working as a groom in a riding stables and a role as a salesman at a men's outfitters.
First radio work
His broadcasting voice was honed from an early age. "My mother and father were very keen on people speaking properly and politeness," he later recalled.
"In search of that, we had what was then called a governess, who was really specifically there to give us the right words to say at the right time and bring us up properly."
He joined the Royal Navy in 1944, the year in which he also made his first radio appearance, as an impressionist in a programme called Navy Mixture.
A naval officer, Commander Kim Peacock, heard the broadcast and suggested he become an announcer on Radio SEAC, the forces-run radio station broadcasting to South East Asia from Ceylon (now Sri Lanka).
"He said he didn't think much of my impersonations," Jacobs remembered, "but he thought the way I announced them was very good."
He moved on to the BBC Overseas Service but he was sacked, he said, for laughing while reading the news.
From acting to pop
He also did a stint on Radio Luxembourg, where he recalled hosting a programme where they brought newly married couples onto the programme to answer innuendo-filled questions.
The programme was sponsored by a fruit importer and at unsuitable points Jacobs would call out 1.2.3.4 and the audience had to shout back "Fyffes bananas".
He took up acting, appearing as Laurie in the first BBC TV adaptation of Little Women in 1951.
Jacobs later played 22 roles in, as well as introducing, the popular radio science-fiction series Journey Into Space.
He used to mark his scripts with different colour crayons to remind himself which voice to use for his various characters.
Jacobs had always been a music lover and in 1959 he was asked to present Juke Box Jury, in those days one of BBC TV's rare acknowledgements of the increasing dominance of pop music.
A panel of four jurors, usually drawn from the world of entertainment, listened to singles than voted them either a 'Hit' or a 'Miss', the cue for Jacobs to hit a bell for the former and a hooter for the latter.
The show quickly drew audiences of more than 12 million, a figure that nearly doubled when the Beatles appeared as the panel in December 1963.
Any Questions? chairman
"We were doing the show live, and the noise beforehand was unbelievable," he recalled. "So I simply addressed the audience before the boys came on, and said, 'Look, we'd all much rather hear what the Beatles have to say rather than a lot of screaming'. And you know what? They were perfectly behaved."
It was perhaps natural that Jacobs would be asked to be one of the four original presenters of Top of the Pops when it launched in 1964.
He stayed with the programme for just two years, although he made two return appearances, in 1983 and 1988.
"I became too square for the pop scene,'' he said.
Jacobs also commentated on a number of Eurovision Song Contests for the BBC, including a five-year run in the early 1960s.
He was perhaps a surprise choice to succeed Freddie Grisewood in 1967 as chairman of Any Questions?, BBC Radio's topical debate programme, but he quickly established himself.
He sometimes had difficult situations to deal with. At Basingstoke in 1976 the programme, which was always broadcast live, was stopped for 10 minutes by people demonstrating against Enoch Powell's presence on the panel.
Range of awards
Jacobs appeared briefly on Radio 1 when the station began in 1967, when some of its output was also broadcast on Radio 2.
He continued to appear on TV, making a cameo appearance in a 1975 episode of Some Mothers Do 'Ave 'Em and hosting Come Dancing, the original ballroom competition that would later morph into the glitzy Strictly version.
But for most of the rest of his broadcasting career he was a Radio 2 stalwart, presenting a series of programmes in his own unmistakable style.
His secret, as he revealed in a 1994 interview, was one that had been passed on from the great cricket commentator John Arlott.
"In order to convey the impression of one-to-one intimacy, always speak while holding, and fingering, a pencil."
Jacobs only quit presenting regular shows on the station in July 2013 when, at the age of 87, poor health forced him to give up.
He had been receiving treatment for liver cancer and had had Parkinson's disease diagnosed.
Jacobs won a number of awards, including the Variety Club's Television Personality of the Year in 1960, BBC Radio Personality in 1975, and the Sony Gold Award for Outstanding Contribution to Radio in 1984.
He also received the Richard Martin Award for exceptional service in the cause of animal welfare and was well known for his charitable work.
Charm and mischief
There was tragedy in his personal life. His son died in a car crash at the age of 19, and in 1975 his second wife, Caroline, was killed in a road accident in Spain. The couple had been married only a few months.
He wrote a book about her, published in 1978. He married again in 1979.
Behind the suave persona Jacobs was known to his colleagues as a rebel, mischief-maker and, according to former Radio 2 controller James Moir, never one to toe the establishment line.
Immaculately turned-out, Jacobs was completely unflappable on air, treating everyone with the charm and old-world courtesy for which he will be remembered.