Gormenghast's Mervyn Peake 'influenced by death camp'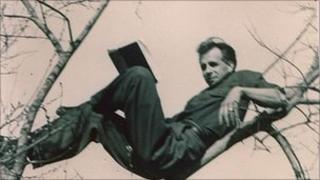 Steerpike, the anti-hero of Mervyn Peake's Gormenghast books, was influenced by the author's visit to a Nazi death camp, his son has said.
Sebastian Peake told the Radio Times the character was inspired by the time his father spent as a war artist at Bergen-Belsen concentration camp.
Peake senior painted prisoners on their death beds shortly after the war ended.
"I believe now that the Holocaust was my father's 'heart of darkness'", Sebastian Peake told the magazine.
He also believes the books were influenced by his father's meeting with Peter Back, a Nazi sentenced to death by the war crimes tribunal for killing an unarmed US airman who had parachuted onto German soil.
"His going into the condemned cell just a few hours before Back was hanged certainly influenced aspects of Steerpike. It must have haunted my father," he said.
Sketches the writer made of Back are said to be strikingly similar to his subsequent illustrations of Steerpike.
Peake died in 1968 having suffered from Parkinson's disease for many years.
This year is the centenary of Mervyn Peake's birth, which will be marked by the publishing of a fourth Gormenghast book written by his widow, artist Maeve Gilmore, who died in 1983.
The manuscript for Titus Awakes was discovered by Mr Peake's daughter in the family attic while "looking for a box of baby clothes".
Gilmore began writing the book around 18 months after her husband's death. However, Mr Peake pointed out the book "was not, properly speaking, a sequel to the series".
Gormenghast was adapted for television by the BBC in 2000, starring Jonathan Rhys Meyers as Steerpike.