Actress Anna Massey dies at the age of 73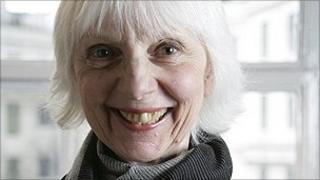 Actress Anna Massey, who starred in a string of screen dramas, has died at the age of 73, her agent has confirmed.
Massey won many awards during her acting career, including a Bafta for her portrayal of a lonely spinster in a 1986 TV adaptation of Hotel du Lac.
The star also appeared in the film adaptation of AS Byatt's Possession, opposite Gwyneth Paltrow and was in Alfred Hitchcock's 1972 movie Frenzy.
She was awarded a CBE for services to acting in 2004.
The child of Canadian actor Raymond Massey - best known for his role as Dr Gillespie in the TV series Dr Kildare and West End actress Adrienne Allen - Massey was brought up in London but saw little of her father after her parents divorced when she was a year old.
Massey began her career on the stage, making her professional debut at the age of 17 in The Reluctant Debutante.
Her film debut was in 1958 in Gideon's Day, directed by her godfather John Ford.
Her TV roles included notable costume drama turns as Mrs Danvers in Rebecca (1979), while she also appeared in an 1983 adaptation of Mansfield Park.
Her film credits include 1960's Peeping Tom, comedy The Tall Guy in 1989 and The Importance of Being Earnest in 2002.
She also starred in a 2004 BBC adaptation of Anthony Trollope's He Knew He Was Right.
Two years later Massey portrayed Margaret Thatcher in television film Pinochet in Suburbia.
Most recently, she appeared in one of Jimmy McGovern's Moving On dramas on BBC One, credited as her last screen appearance.
"I find acting incredibly difficult - it demands much more of my time than it does for some people.
"I'm not instinctive. It takes enormous discipline and bravery to get me there," the actress told The Independent in 1996.
Massey was married to Sherlock Holmes actor Jeremy Brett for four years until 1962, and spent 27 years alone until she met her second husband.
Her agent said: "She will be remembered as a loving wife and mother, a cherished grandmother, a generous colleague and, always, a consummate professional. She will be greatly missed."