UK independent music labels launch new awards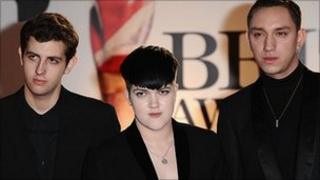 The Association of Independent Music (Aim) has announced a new awards ceremony for British indie artists.
Aim says the show is in response to the lack of success for independent artists at mainstream awards such as the Brits.
Categories include breakthrough of the year and hardest working band or artist - awarded to who has played the most gigs during the year.
Hosted by Radio 1 DJ Huw Stephens and 6 Music's Steve Lamacq, the awards will be held in London on 10 November.
Artists including Arctic Monkeys, Dizzee Rascal, Example and Mercury Prize winners The xx are all signed to British independent labels.
The xx were nominated in three categories at the Brits including best British album and best British band but did not win any of them.
Chairman and CEO of AIM Alison Wenham told the BBC the awards "were not done as a response to anything the Brits have done".
But she acknowledged that the "populist" awards are "made for TV which denotes a certain level of artist".
She added that the new ceremony would "reflect the diversity and brilliance" of the UK's independent scene.
"It won't be as glam or high profile as the Brits," she said.
Most of the categories will be decided by a judging panel of experts and tastemakers, while the best live act and the golden welly award - for an independent music festival - will be open to public vote.
AIM was established in 1999 and represents over 800 members working within the UK's independent music industry.
The US Independent Music Awards was set up more than 10 years ago.