JK Rowling splits with book agent Christopher Little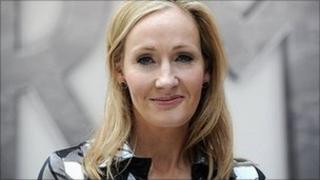 Harry Potter creator JK Rowling has parted company with her longtime literary agent Christopher Little, it has been announced.
The millionaire author has worked with Mr Little since he found a publisher for her first novel Harry Potter and the Philosopher's Stone in 1996.
Rowling said it had been a "painful decision" but "was not taken without good reason".
Her books have sold more than 400 million copies worldwide.
"This was a painful decision, especially as Ms Rowling had actively sought a different outcome for some weeks," said a statement issued on her behalf.
"However, it was not taken without good reason and it finally became unavoidable."
A spokesman for Mr Little confirmed the news and said that the agent was "surprised" and "disappointed" at the decision.
"Christopher Little has worked closely with J K Rowling as her agent since the very beginning 16 years ago.
"He greatly admires her and her extraordinary talent and is proud to have played his role throughout this journey.
"However he is disappointed and surprised to have heard the premature news about the proposed new arrangements."
Last month, Rowling launched a new website Pottermore that would feature previously unpublished Harry Potter material as a "give-back" to her fans.
"Some of it is new stuff in response to things fans have asked me over the years," she told the BBC.
The website, which launches in October, includes an online store where fans can buy Potter e-books for the first time.