Transformers movie storms US film chart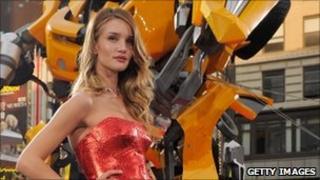 The latest Transformers movie, released on Tuesday, has made $162.1m (£100.4m) at the US box office so far.
Transformers: Dark of the Moon topped the film chart with takings of $97.4m (£60.3m) over the three-day weekend.
The film, starring Shia LaBeouf, also racked up ($64.7m) £40.1m between Tuesday and Thursday.
The third movie, directed by Michael Bay, is the first in the franchise to be released in 3D. The film also stars UK model Rosie Huntington-Whiteley.
Cars 2 was bumped off the top spot down to second place, while Cameron Diaz film Bad Teacher dropped from two to three.
Julia Roberts and Tom Hanks romance movie Larry Crowne debuted at number four.
At number five, Monte Carlo was the only other new entry in the top 10.
The film stars Selena Gomez, Katie Cassidy and Leighton Meester as US travellers who end up being treated like royalty in Monaco after Gomez impersonates a European heiress.
Meanwhile, Disney confirmed on Saturday that its fourth Pirates of the Caribbean movie, On Stranger Tides, has grossed more than $1billion (£620m) worldwide since its release on 20 May.
But it has yet to surpass the performance of Pirates of the Caribbean: Dead Man's Chest, which raked in $1.066bn (£660m) in 2006.