Festival-goer dies in fall at Roskilde event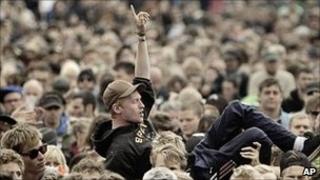 A festival-goer has died after falling from a 30m (98ft) tower at the Roskilde music event in Denmark, police said.
The woman, who was aged between 25 and 30, has yet to be identified, while another person was slightly injured in the same incident.
Danish police spokesman Carsten Andersen said the cause of the accident has yet to be determined.
In 2000, a crowd crush during a performance by US rock band Pearl Jam left nine music fans dead.
The tower was the starting point for an aerial ride run by one of the festival's sponsors.
Roskilde organiser Mads Mikkelsen said the accident was "very tragic", but declined to give any further comment until being informed of all the facts by police.
An estimated 75,000 people are attending the event, which began on Thursday and will reach its climax on Sunday evening.
Arctic Monkeys, PJ Harvey, Iron Maiden and Kings of Leon are among the acts taking part in the festival.