Advert tenor Wynne Evans to appear in Phantom gala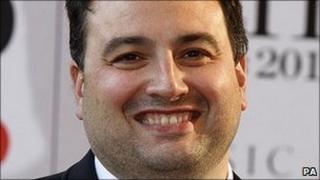 Welsh tenor Wynne Evans will appear in three gala performances of The Phantom of the Opera at the Royal Albert Hall to mark the musical's 25th anniversary.
The star, who found fame singing in the Go Compare insurance adverts, will play the comic character Ubaldo Piangi in the performances on 1 and 2 October.
He will be joined by Sierra Boggess and Ramin Karimloo, who have both starred in Phantom sequel Love Never Dies.
More than 200 other cast members will also participate in the shows.
Andrew Lloyd Webber's musical opened at Her Majesty's theatre in London in 1986 and is still going strong.
"The success of the show has become the stuff of theatrical legend," said producer Sir Cameron Mackintosh.
"Andrew and I felt we needed to create a really special performance to celebrate the 25th anniversary."
Karimloo, currently playing the Phantom in Love Never Dies at the Adelphi theatre, will play the same role at the Albert Hall.
In March Evans went straight to the top of the classical music charts with his debut album A Song in My Heart.
The singer, who plays a moustachioed opera character in the Go Compare commercials, has signed a six-album deal with Warner Records.
Last month Evans filled in for tenor Alfie Boe at the Albert Hall at a memorial concert celebrating the late film composer John Barry.