Jarvis Cocker to publish book of lyrics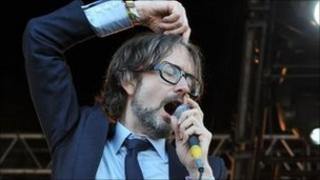 Lyrics written by Pulp frontman Jarvis Cocker are to be published in a book, it has been announced.
The musician, who started writing aged 15, said he tried too hard when writing his earlier material.
"My breakthrough came when I stopped thinking, 'I've got to be profound' and started writing about everyday normal things," he said.
Publishing house Faber will release Mother, Brother, Lover: Selected Lyrics in October.
"I formed a group when I was 15 and we used to rehearse in my mum's living room when she was out," Cocker said.
"I can tell you my first ever lyrics that I ever wrote won't be in the collection, you'll be glad to hear. It's from a song called Shakespeare Roll.
"Got a Baby, only one thing's wrong, quote Shakespeare all day long. I said baby 'why're you ignoring me?' she said: 'To be or not to be'."
The star admitted that most of his writing is about "spontaneous little things" that occur in everyday life.