Bolshoi couple play 'star-cross'd lovers'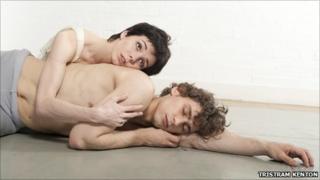 Bolshoi superstars Ivan Vasiliev and Natalia Osipova dance Romeo and Juliet in London next week. But will their real-life engagement add an extra dimension to their performance?
They are one of the super-couples of the ballet world.
Ivan Vasiliev has been hailed as "the new Nureyev". Natalia Osipova has won praise for her performances in Giselle and in Don Quixote.
Next week the engaged couple will play the "star cross'd lovers" in a revival of Sir Frederick Ashton's Romeo and Juliet at the Coliseum.
Sword play
The Peter Schaufuss Ballet production, last staged in 1985, fuses Prokofiev's music and Shakespeare's characters.
"Romeo and Juliet are very emotional roles," says Vasiliev, when I meet him and Osipova during rehearsals on a stormy afternoon in Southwark.
With his tousled locks and his mischievous eyes, Vasiliev looks every inch the romantic hero.
He clearly adores his stage sword. Throughout the interview he flourishes it, fiddles with it and finally sits on it.
He helpfully translates his future wife's Russian into English.
"The roles are physically very demanding," says Osipova. "In the first rehearsal we said: 'It's not possible to dance this!' But now we feel we can. It takes our ballet technique up a level."
The couple were promoted to principal dancers of the Bolshoi in May 2010.
Osipova joined the Bolshoi after graduation in 2004 as a member of the corps de ballet and was immediately given solo parts. In that same year she was cast as the lead dancer in Bolero.
Her debut as Kitri in 2005's Don Quixote brought rave reviews. She has toured with the Bolshoi in many cities including London, New York, Washington and Tokyo.
Earlier this year her performance in Giselle featured in the first ever 3D ballet movie - filmed last year the historic Mariinsky Theatre in St Petersburg.
Born in Vladivostok, Vasiliev joined the Bolshoi in 2006 and made his debut in the part of Basil in Don Quixote. Nicknamed The Jumper for his famous leaps, he starred as Spartacus at the Royal Opera House last year.
"It can be good when a production has been out of repertoire for a long time," says producer Schaufuss, who collaborated with Royal Ballet founder choreographer Sir Frederick Ashton on the 1985 production of Romeo and Juliet.
Stage chemistry
"We have the opportunity to present it to a new audience with today's big stars."
"Here are two dancers who dance like one," he says.
"It's a milestone. When Rudolf Nureyev danced with Margot Fonteyn it was a different relationship. Here are two people who are in love dancing Romeo and Juliet."
The chemistry between the couple is undeniable. How much, I ask them, does their engagement change the way they dance together?
Vasiliev: "It makes things much easier on stage because we understand each other very well. But in rehearsals it is harder - we fight like cat and dog."
He emits a series of barks and Osipova giggles. "We talk about our performances every day, in the hotel, in the restaurant, in bed. We talk, talk, talk!"
Does Osipova remember the first time they ever danced together at the Bolshoi?
"We were very young, and we fought then," she answers.
She turns to Vasiliev, and adds: "When we dance together I feel like we are one, and not separate pieces."
The cast in this 21st Century restaging of Romeo and Juliet includes Alban Lendorf, principal dancer of the Royal Danish Ballet, as Mercutio. Schaufuss also makes an appearance as Friar Laurence alongside his daughter, Tara, as Livia.
The family connection with the ballet goes back to 1955 when Schaufuss's mother and father appeared in the first western version of the ballet.
Schaufuss points out that Romeo and Juliet are on stage for almost all of the two-act ballet.
"There's continuous movement the whole way," he says. "It is very hard for Romeo and Juliet because there is no rest. I think it will be a surprise to some people."
So how have the Bolshoi stars been unwinding while in London?
"We sleep," laughs Vasiliev. "Together!"
Osipova adds: "We love London. But we don't have the energy to go sightseeing. So we sleep - and watch Desperate Housewives."
And on that revelation the couple head back to the rehearsal room, with Vasiliev still swishing his beloved sword.
Sir Frederick Ashton's Romeo and Juliet is at the London Coliseum 11-17 July