Hans Zimmer: I don't write music in 3D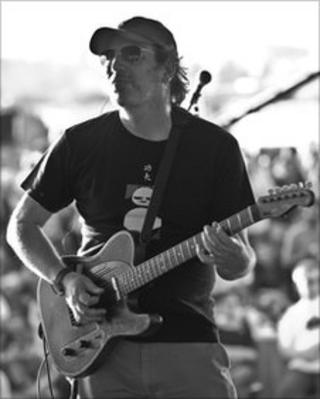 Having scored more than 100 films, Hans Zimmer is one of Hollywood's most prolific composers. Following his work on Inception and Kung Fu Panda 2, what next for the German-born musician?
When you call Hans Zimmer's studio in Santa Monica, Los Angeles, it is no surprise that you are are put on hold to the sound of one of his award-winning soundtracks.
There's no lack of choice: Rain Man, Gladiator, The Lion King, Thelma and Louise, The Prince of Egypt, Sherlock, The Thin Red Line - amongst many others.
In recent years, Zimmer has formed a close association with British director Christopher Nolan. He co-wrote the music for Batman Begins and The Dark Knight, as well as Nolan's mind-bending blockbuster Inception.
"Chris and I do work really well together," says Zimmer. "He is my guardian angel when it comes to my music. He protects it tremendously and makes sure it gets heard."
That's something of an understatement for Inception, where Zimmer's pounding score, combined with Johnny Marr's guitar, was impossible to miss. It also brought Zimmer his ninth Oscar nomination.
'Plan B'
In his sleeve notes for the Inception soundtrack, Nolan said Zimmer "never lets practical realities limit his belief in the power of ideas".
When I repeat this to Zimmer, he says: "Reality is so overrated! If you have an idea and you are surrounded by talented people - which I am - you can usually pull it off.
"And if you can't pull it off, we have a rule at my studio, which is execute plan B flawlessly."
Zimmer's recent scores have included a string of 3D movies including Kung Fu Panda 2, Pirates of the Caribbean: On Stranger Tides, Rango and Megamind.
Does 3D change the way he approaches his writing?
Zimmer: "It hasn't changed anything other than that I'm very aware that I don't make things pop out of the speakers or pan all the way round the room.
"We did all that in the 80s and we very quickly realised that it wasn't a very good idea. The 3D boys are still catching up."
Music went digital before images went digital, he points out. Modern recording techniques have made his work quicker, but the creative process is the same.
"How many years of my life were wasted by waiting for the tape machine to wind back?" says Zimmer.
"There was a dodgy digital period when things didn't sound that great, but now we are figuring that out. The basics haven't changed, which is talented human beings playing together in a room."
The project on Zimmer's immediate horizon is a Kung Fu Panda 2 musical concert on Saturday on the Althorp Estate, Northampton.
"It's not just a concert - it's a bit of an experiment," says Zimmer, who will be taking part alongside co-writer John Powell. "It's a Chinese-themed day out. We're bringing over a lot of musicians from Los Angeles."
Zimmer sees the show as a way of "saying goodbye" to Kung Fu Panda 2.
"When you start the next project you have to forget everything you did before, otherwise Dark Knight will start to sound like Kung Fu Panda."
Multi-tasking, he admits, is not his strong point.
"I just throw myself into one thing and become a monk. I sit in my room and get grumpy and don't answer the phone. It's the only way I know how to do it."
The projects next on Zimmer's slate are Guy Ritchie's Sherlock Holmes sequel - out at Christmas - and Nolan's The Dark Knight Rises, set for summer 2012.
Zimmer's leisure-time listening may hold some clues as to his approach to the Batman sequel.
"I've been listening to a lot of Verdi lately," he says. "And Alison Goldfrapp, and a lot of electronica as I'm heading into Dark Knight territory again."
"I've been in the studio trying out ideas. I'm embarrassingly far advanced. I sent Chris some stuff the other day and he thought it was really unusual that I wasn't holding the whole thing up.
"Of course I'll try to make it different, but I'm not going to abandon the musical language of the previous film. It's a matter of knocking down some walls and making it broader, wider and more epic."
Pandamonium in the Park takes place at Althorp House in Northamptonshire on 9 July