Photos show another side of Andy Warhol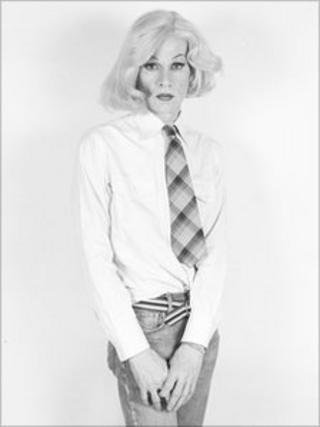 Photographs of Andy Warhol in ladies' wigs and full make-up have gone on display in the UK for the first time. His friend and collaborator Christopher Makos, who took the photos, talks about working with the patriarch of pop art.
Warhol's impassive, enigmatic stare is the same in most of the 349 frames that Makos fired off at the Factory studio over two days in 1981.
But using seven different wigs and little else, the artist transformed himself into a series of striking female alter-egos.
There is the starlet with the stylish blonde bob, the rock chick with the wild brown mane, the socialite with the busy black nest and the fallen idol with the distressed bleached curls.
They are all obviously Warhol, but also quite unnervingly, convincingly not.
Then aged 53 and one of the most famous artists in the world, he was toying with his own identity and the notion of how changing your appearance could change the way you are seen by others.
"We played with this idea of how people would perceive Warhol," Makos says.
"When you put make-up on a man and change the way he looks and put a wig on, it completely changes the way you look at a particular person."
Some have said that with these sessions he was trying to get closer to heroines like Marilyn Monroe, Liz Taylor and Joan Collins, whom he depicted in his famous silkscreens.
Some think he was exploring his feminine side. Makos thinks he was stepping into the characters of the rich female collectors who paid $25,000 a time to commission a portrait from Warhol.
They certainly show another side to one of the most celebrated and ubiquitous artists of modern times, and four of those images have gone on show at the Lowry gallery in Salford.
They hang alongside Marilyn, Liz and Joan in an exhibition called Warhol and the Diva, examining the artist's fixation with image and celebrity culture.
The photos also appear in Makos' book Lady Warhol and an accompanying free iPhone app.
The series, titled Altered Images, was Warhol's homage to Marcel Duchamp's alter ego Rrose Selavy, who was photographed in a ladies' hat and fur collar by Man Ray in the 1920s.
It was just another step in Warhol's creative process, says Makos, who describes working with the artist as being like "being on a non-stop date".
"When artists get together they like to play and be creative and Warhol was one of the biggest playmates, and I was lucky enough to play in his sandbox for a while," he says.
Makos met Warhol after working as an assistant to the playwright Tennessee Williams. "I wasn't a very good assistant. I lost his typewriter," he admits.
By the mid-1970s, Makos was making a name for himself as a photographer and met Warhol at an exhibition opening. "I barely knew who Andy Warhol was at that time because I was quite young", he says.
The pair started working together and Makos became a member of Warhol's inner circle at The Factory.
"He was a lot of fun," Makos recalls. "He was very dedicated, a hard worker. He didn't know when to stop. There were no weekends or holidays.
"It was called The Factory for a reason. It was an assembly line of things going on, whether it was book publishing, painting, making movies, doing interviews, there was always something going on."
Warhol was one of the first to take the growing obsession with celebrity, the sensational and the mass-produced and turn it into art. He amplified it, played with it and reflected it back to the world.
"He was fixated by American pop culture," Makos says. "He was fixated by what people found interesting.
"He loved looking at the New York Post every day. People are fascinated by those headlines and so was he. And he turned a lot of that into art.
"He would have loved this world today of the internet and texting and immediate responses and reactions to things.
"I'm curious as to how he would have dealt with this in terms of art. I'm sure everything you see on your monitor or your mobile phone he would have taken and made silkscreens of. It's a wild notion."
Next year, the Metropolitan Museum of Art in New York will stage a major exhibition examining Warhol's influence over the last 50 years on 50 artists, including Makos, an acclaimed photographer in his own right.
"Warhol's like a rock star," Makos says. "He's a big icon. I always say the best career move is to drop dead. He did that and that was a big career move.
"After Warhol died [the prices for] his works went sky high and they're still going sky high. It's wild."
Just this year, three of Warhol's works have sold for $38.4m (£23.5m), $20m (£12.2m) and $17.4m (£10.8m).
"He'd be surprised and he'd be annoyed that he wasn't getting that kind of money when he was alive," Makos continues.
In his lifetime, Warhol's $25,000 portrait fee was much less than the amounts commanded by contemporaries like Roy Lichtenstein and Robert Rauschenberg, Makos says. "That always used to aggravate Andy.
"But the bottom line is that almost anybody knows the name Andy Warhol."
Warhol and the Diva is at The Lowry in Salford until 25 September. Christopher Makos' new book Tyrants and Lederhosen, a collaboration with Paul Solberg under the name The Hilton Brothers, will be published in October.