The reinvention of the book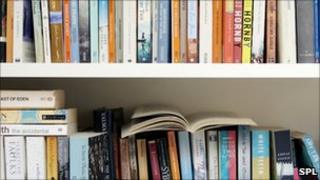 Video never did kill the radio star. But it might cause a lot of books to be pulped. Re-written by machine and new technology, paperbacks could become ancient history. Oh-a-aho no.
Oh-a-aho yes, according to John Makinson: chairman and chief executive of the Penguin Group. The likable, ebullient publishing boss - a Tigger in the CEO jungle - foresees a new age where books become electronic gateways to trivia and chat:
"I don't expect that readers will open Jane Austen on page one and read through to page 300 and then put the book down.
"I think they will go on little journeys into other media and other conversations and they will want to do research into the dance moves or recipes of the period or look up info about Jane Austen online or talk to their friends on social networks about the experience of reading the book."
Good golly. Are books as a linear entity over? You'd expect to hear that from Steve Jobs while peddling iPads, but not perhaps from Penguin.
The publishing house was founded in 1935 by Allen Lane whose big idea was to mass-produce huge quantities of well-written, well-designed paperbacks that would be affordable to every household in the country.
Penguin was to be the peoples' publisher: their books read by those attending the universities of life and Oxbridge; available in bookshops and tobacconists. Within 12 months he'd sold three million copies. Visionary is in Penguin's DNA.
So maybe John Makinson's prediction is correct. E-books are all the rage.
Sales increased by 318% in 2010 and continue to motor. Most predict that at least 50% of all books sold within ten years will be digital downloads.
Apple has already sold over 25 million iPads, Amazon is also doing brisk trade in Kindles and then there's Sony's e-reader and so on.
Lacking imagination
We can't rewind, we've gone too far.
But Sarah Waters is worried. The author of Fingersmith and Tipping the Velvet said that she wanted "people to read words", adding "If I'm writing a description of a house I don't want there to be an image or link pop up to the sort of house i'm writing about. To me that seems like a failure."
It would inevitably change the role of the author and their approach to the craft of writing.
As opposed to having the sole responsibility for conjuring up images, atmosphere and environments in the reader's mind, the e-book author might be closer to a scriptwriter; working with musicians, filmmakers, researchers and actors to create a piece of multi-media content that leaves much less for the 'readers' imagination to do.
That's a thought to turn the stomach of many writers. It could also provide a clue as to why video might not kill off the literary star.
Radio has survived - thrived even - because of its immediacy and inherent ability to fire the listener's imagination.
By abstracting so much material information (faces, places, objects are all unseen) radio gives the unconscious mind an outing and the listener a chance to momentarily un-couple him or herself from the pervasiveness of the rational world.
A book does that and more. It is a chance to escape and set the mind free.
Freer than it could ever be looking up recipes via a hyperlink on Pride and Prejudice.