Alicia Keys to co-produce Broadway play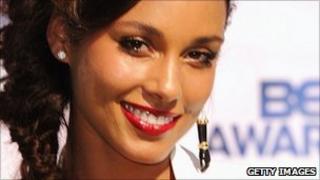 R&B singer Alicia Keys is to co-produce a Broadway play about black America.
The 30-year-old said she was "passionate" about Lydia R Diamond's Stick Fly because it "portrays black America in a way that we don't often get to see in entertainment".
The comedy tells of an affluent family who come together for a weekend at Martha's Vineyard in Massachusetts.
It will open at the Lyceum Theatre on 8 December with previews from 18 November.
The play has previously been performed in Boston, Chicago and Washington DC.
"This is a story that everybody can relate to," Keys said.
"I know it will touch all audiences who will find a piece of themselves somewhere inside this house."
Keys is the latest music star to step into the world of Broadway production in recent years.
In 2009, Jay-Z, Will Smith and his wife Jada Pinkett Smith joined the producing team of the musical Fela!, about Afrobeat singer Fela Kuti.
And last year, Sir Elton John produced the 2010 Tony-nominated play Next Fall.