Russian playwright Yuri Lyubimov quits theatre company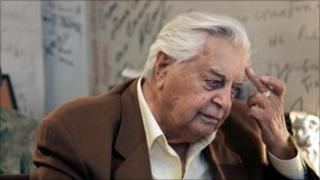 Celebrated Russian playwright Yuri Lyubimov has left the theatre company he has led for nearly half a century.
Lyubimov, 93, founded Moscow's Taganka Theatre in 1964 but fell out with its actors over pay during a Czech tour.
"I confirm I have taken my final decision - to leave the theatre," Lyubimov told the RIA Novosti news agency on Saturday.
"I have no intention of working with this troupe. Let them be led by their trade union," he added.
"I've had enough of this disgrace, these humiliations, this lack of desire to work, this desire just for money."
The dispute came to a head just before a performance of Bertolt Brecht's play The Good Person of Szechwan, when the actors refused to rehearse unless they were paid first.
One of the theatre's leading actors, Tatyana Sidorenko, denied that she and her colleagues had threatened not to perform.
"We just wanted to be paid for our work," she told the Echo Moscow.
Lyubimov is one of the leading names in the Russian theatre world.
He was well known for his work with late actor Vladimir Vysotsky, who was famous for his social commentary songs.
Lyubimov lost his Soviet citizenship in 1984 after he gave an interview to The Times newspaper while putting on a play in London, but was taken back into the fold in the late 1980s and given back his passport.
During his exile he worked abroad and returned to the Taganka in 1989.
Lyubimov's productions with the Taganka include Dostoyevsky's Crime and Punishment, Chekov's Three Sisters and Zhivago by Pasternak.