Jeremy Paxman reveals University Challenge rejection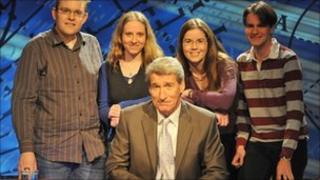 University Challenge host Jeremy Paxman tried to join his college team for the quiz show but was rejected for "failing to answer questions", he has revealed.
The Cambridge University graduate told the Radio Times he remembered "going along with a couple of friends" to a common room quiz to choose a team.
"I did have a go - I didn't get chosen", said Paxman, 61, who has presented the programme for 17 years.
He said rejection did not reflect upon general knowledge or mental ability.
"It is a very particular thing, playing a quiz," added Paxman, who succeeded Bamber Gascoigne as the host of University Challenge.
Former Tory MP Ann Widdecombe, who interviewed Paxman for the Radio Times, revealed she too had been rejected by her college team.
Paxman, who said that he slept during university lectures "half the time", added there would come a point when he would have to step down from his role of host because the BBC would say "let's get rid of this old person".
He said there was no argument that questions on the show had got more difficult, "because students know a lot more now".