Tom Hanks: 'Hollywood is like high school'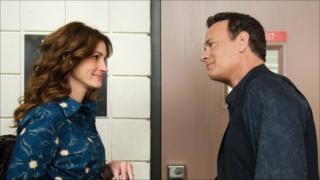 Tom Hanks takes on the roles of writer, director, producer and star for his new film Larry Crowne. After more than 30 years in the business, what does he really think of Hollywood?
In Larry Crowne, Hanks plays an amiable ex-Navy man who is "downsized" out of his job at a big American store.
One minute he is skipping into work to ELO's Hold on Tight, and the next he is shown the door by his superiors.
"Timing's a bitch," says one of them, with a crocodile smile.
Burdened by a mortgage, and with time on his hands, Larry Crowne signs up at the local college to get some qualifications and re-invent himself.
"What we try to deal with is the fight against cynicism," says Tom Hanks, when we meet during his recent visit to London for the Larry Crowne premiere.
"Cynicism and sadness and bitterness can enter into the fray particularly when you've lost your job and when you've done everything right, and you still find yourself in these kind of straits."
Rom-com reunion
Although there is much in Larry Crowne that chimes with today's tough economic times, Hanks began developing the story years earlier with Nia Vardalos (My Big Fat Greek Wedding).
He also drew on his own experiences of attending college as a teenager in the 1970s.
"I only went to three years of college and two of them were at a community college much like the one that Larry goes to," recalls Hanks.
"I started when I was 17, and there were people in class who were twice as old as me and had families and once had businesses."
Larry Crowne reunites Hanks on-screen with Julia Roberts, who plays college lecturer Mercedes Tainot. The pair had previously worked together on 2007's Charlie Wilson's War.
Both actors had starred in some of the biggest romantic comedies of the 1990s. In Larry Crowne, Hanks's character develops a crush on on Roberts's public-speaking teacher - just as her marriage is falling apart.
"I'm in my 50s so that's not exactly fertile territory for romantic comedy," laughs Hanks.
"In Larry Crowne we do it in the way it happens in real life - you just happen to bump into somebody and it turns into one of the greatest things that ever happens to you.
"It's not so much boy meets girl, it's more a man meets woman story - not exactly the nature of old school rom-coms."
This is Hanks's second shot at movie writing and directing after 1996's That Thing You Do!
His breakthrough movie was in Ron Howard's Splash and he went on to to star in '80s comedies The Money Pit, Bachelor Party, Big and Turner & Hooch.
He won an Oscar in 1994 for Philadelphia and again the following year for Forrest Gump.
Other key films include Sleepless in Seattle, Saving Private Ryan, Cast Away, Road to Perdition and the Toy Story series.
He most recently reprised the roles of Woody in Toy Story 3 and Robert Langdon in Angels and Demons.
After such a long career, I ask him, what is Hollywood really like?
"Hollywood is exactly like high school," Hanks says. "With money!"
He adds: "It's filled with just as much pettiness, sadness and jealousy as well as fun and senior proms and parties."
And how has he survived more than three decades in showbiz? "I laugh more than I shake."
Larry Crowne opens in the UK on 1 July