Daniel Radcliffe musical halted after death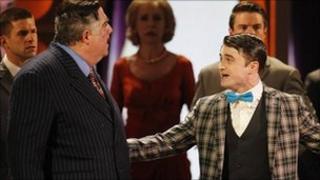 A performance of Broadway musical How to Succeed in Business Without Really Trying was called off at the last minute after a stagehand was found dead backstage.
The 29-year-old man, who has not been named, is thought to have suffered a cardiac arrest.
The show's stars Daniel Radcliffe and John Larroquette apologised to theatre-goers on stage for cancellation.
The show would have been the Broadway revival's 100th performance.
The stagehand was found just before the curtain was due to rise at 2000 local time on Wednesday. Police said he was taken to a nearby hospital where he was pronounced dead.
Radcliffe and Larroquette appeared on stage an hour later to explain the show would not be going ahead.
"The two of them said they had mulled it over whether to go on with the show," audience member Barbara Germain told the New York Times.
"They apologised to everyone, but said it wouldn't be fair to us because they would not have been able to give a good performance," she added.
Show producers said in a statement the "incident was not caused by an accident related to the production".
A spokeswoman for the medical examiner's office said a post-mortem would be conducted.
The musical carried on as scheduled for its performance on Thursday night.