Paul Simon: From 1960s UK folk clubs to Glastonbury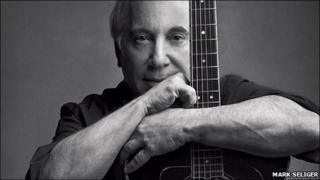 When Paul Simon walks on stage at Glastonbury on Sunday - the highlight of a rare UK tour - it will be a far cry from his first gigs in England.
In 1965, the unknown singer-songwriter, aged 24, moved to London to perform in folk clubs, earning £3 for his first job.
"It was a big adventure for me - I used to go take my guitar, get on a train and go to wherever I was going by myself," he recalls.
Simon & Garfunkel's subsequent hit Homeward Bound - "I'm sitting in the railway station, got a ticket for my destination" - was famously written while waiting for a train in north-west England.
Fast forward 46 years and his UK tour, which started in Nottingham on Thursday, features an eight-piece band and 40 crew members - a figure that will be expanded for Sunday's Glastonbury appearance.
"Just the amount of guitars our band carry is something - we carry about 20 guitars," says the 69-year-old.
In contrast to Glastonbury, where he will play to tens of thousand of fans, his recent tour of the US and Canada included a number of club gigs - his first in years.
"I like the energy of the clubs. Of course, it's different from the 60s. Now when I play in clubs, people are standing so there's dancing.
"But I have a particular affection for when I was playing in the British folk clubs. They were like tiny little theatres, not even that, because there wasn't even a stage - just a microphone and sometimes there wasn't a microphone."
People sat on the floor "and just listened", adds Simon, who released his first solo album, The Paul Simon Songbook, in the UK in the summer of 1965. The record was not given a full release in the US until 2004.
Exquisite harmonies
Just before he moved to London, Simon and his schoolfriend Art Garfunkel released the album Wednesday Morning 3AM, in the US. It flopped.
While Simon was away, producer Tom Wilson took it upon himself to overdub electric guitar and drums on to the album's The Sound of Silence in an attempt to capitalise on the new acoustic folk-rock sound, championed in the US by The Byrds.
The new version soon began to gain airplay, and by late 1965 had climbed its way to the top of the US charts.
Simon duly flew home to reunite his distinctive voice, songs and rhythmic guitar playing with the exquisite harmonies of his old friend.
"Right before I left to go and join Art Garfunkel in the States I was making £25 or £30 a night, maybe £100 a week," remembers Simon.
"I felt vaguely guilty that I was earning so much more than the average working man.
"And then, of course, I went home and the next thing you're a millionaire."
Many of the songs from their subsequent January 1966 hit Sounds of Silence album - including Kathy's Song, about Simon's romance with a British girl - had appeared on The Paul Simon Songbook.
Tabla and whistling
Simon says his new solo album So Beautiful or So What is a return to the days when he would sit and write songs with his acoustic guitar.
The starting point for all his songs since the career-redefining 1986 album Graceland, which fused African rhythms and instrumentation with his gift for melodic poetry, had been drumbeats or layered tracks.
But despite the return to guitar-based composition, the influences remain eclectic.
Standout tracks include otherworldly The Afterlife - "you've got to fill out a form first, and then you wait in the line" - complete with heavily processed acoustic guitar over a laid-back soca beat.
New single Rewrite, meanwhile, features tabla drums and whistling.
He says he's looking forward to sharing new material, together with a smattering of golden oldies, at Glastonbury - "a festival that has the nation's attention... a big deal" - and at his other UK dates.
"I was here in the UK when Simon & Garfunkel became international stars and it was here that I learned how to perform," he says.
"Friends I made here I still have and it was a very, very happy period in my life so I feel as if it's a second home."
So Beautiful or So What is out now.