Egon Schiele cityscape sells for a record £24.7m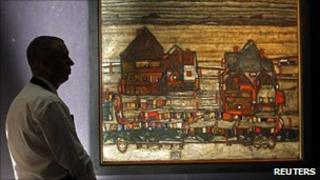 A rare cityscape by Austrian artist Egon Schiele has sold for a record £24.7m at a sale in London.
Despite the work setting a new auction benchmark for the artist, it sold at the lower end of the estimated price of between £22m and £30m.
Hauser mit bunter Wasche Vorstadt II (Houses with colorful Laundry, Suburb II) was painted in 1914, four years before Schiele's death.
The previous auction record for a Schiele oil on canvas was £13.9m.
Only three notable Schiele cityscapes have been offered for auction in the last decade.
An anonymous telephone buyer successfully bid for the painting at the Sotheby's auction, which was sold by the Leopold Museum in Vienna.
Peter Weinhaupl from the museum said he was "extremely pleased" with the results of the sale.
He added that the funds raised would "allow the museum to move forward with its goals".
Proceeds from the sale are also expected to be used to help settle a long-running dispute over Schiele's 1912 Portrait of Wally, depicting his lover Walburga Neuzil.
A New York court upheld claims the work had been seized by the Nazis, prompting the Leopold Museum to pay $19 million (£11.8 million) last year in an out of court settlement to keep the painting.
The artist, protege of Austrian painter Gustav Klimt, died of influenza in 1918 at the age of 28.