George Michael to stage HIV charity concert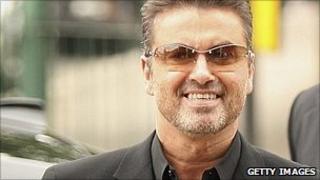 George Michael is to stage a special concert for Sir Elton John's Aids foundation.
The gig at London's Royal Opera House will benefit the charity's newly created Elizabeth Taylor Memorial Fund.
Michael said he "really wanted to honour the inspiring efforts" made by the actress in raising awareness of the disease.
The charity show on 6 November is part of the singer's European Symphonica orchestral tour.
Dame Elizabeth, who died in March, was a prominent Aids campaigner and founded the American Foundation for Aids Research following the death of her close friend Rock Hudson in 1985.
"I have seen how HIV can affect people's lives, how it can destroy families and communities," Michael said.
"The way that the Elton John Aids Foundation gets help to the people around the world who need it most - often the most marginalised communities - really spurred me on to do something."
Sir Elton, who duetted with Michael on the 1991 hit Don't Let The Sun Go Down On Me, said: "This is an incredible and generous gesture. His is an amazing talent, and this is a fantastic gift he is making to people affected by HIV."
The Sir Elton John Aids Foundation has raised more than £80m since it was set up by the singer in 1992.