Dame Shirley Bassey drama to screen on BBC Two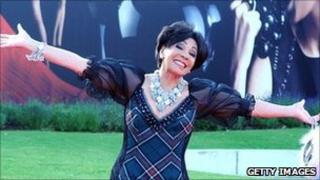 Dame Shirley Bassey's life has been made into a film for BBC Two, the broadcaster has announced.
The drama, which will show her "difficult rise from poverty to international stardom", is part of programming looking at mixed race culture in the station's new schedule.
Shows for summer and autumn also include a one-off film about Adolf Hitler and drama series The Hour.
Ricky Gervais' and Steve Merchant's new show Life's Too Short also features.
The mock documentary by The Office writers will star Warwick Davis as a misanthropic dwarf.
Earlier this year Gervais described it as a "fake documentary" where Davis is trying to "get his career back on track".
The Hour, starring Romola Garai, Dominic West and Ben Whishaw, begins later this summer.
The six-part series goes behind the scenes of the launch of a topical news programme in London 1956.
'Powerful documentaries'
Sir David Hare has written and directed his first film for more than 20 years entitled Page Eight, a spy thriller which stars Bill Nighy, Michael Gambon and Rachel Weisz.
The Man Who Put Hitler In The Dock will tell the true story of a Jewish lawyer who challenged Hitler and was eventually killed in a concentration camp.
Ian Hart has been signed up to play the role of Hitler and Ed Stoppard will play lawyer Hans Litten in the one-off drama.
Stephen Fry has signed up to front a new series called Fry's Planet World in which he examines the English Language. The programme is part of a major new arts strand on BBC Two this autumn.
Also part of the season, Amanda Vickery will present a new programme called The Prime Of Miss Jane Austen, which will mark the 200th anniversary of the publication of Austen's first novel Sense And Sensibility.
Vickery will explore the impact Austen's writing has had on people and why it became so popular.
As well as the Dame Shirley film, the channel's mixed race season will include a three-part series called Mixed Britannia where newsreader George Alagiah will explore Britain's mixed-race communities.
The last decade of war in Afghanistan will be marked with a series of programmes dedicated to the conflict.
Unknown Country will look at the nature of Afghanistan as a country, with Lyse Doucet investigating its natural beauty and its people.
The BBC said it had commissioned 17 "powerful documentaries", which will include a programme about the Chilean miners who were cut off from the world for more than two months and Saira Khan's journey to adopt a baby from an orphanage in Pakistan.
Shows such as Top Gear, QI, The Choir, Masterchef: The Professionals, The Hairy Bikers and Dragons Den are also set to return.