Picasso painting sold for almost £13.5m at Christie's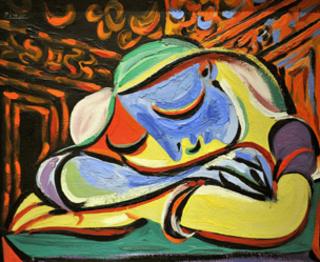 A rarely seen painting by Pablo Picasso has been sold for almost £13.5m at Christie's auction house in London, exceeding expectations.
Jeune Fille Endormie (1935), a portrait of the Spanish artist's lover, had been estimated to sell for £9m-12m.
The artwork was donated to the University of Sydney, provided the establishment used money from the sale for scientific research.
Giovanna Bertazzoni from Christie's said the piece was an "absolute jewel".
Marie-Therese Walter was the subject of many of Picasso's celebrated works.
The couple met in 1927 when he was 45 and she was 17. The couple spent time together at Picasso's country home, the Chateau de Boisgeloup, where he created a string of masterpieces.
Nude, Green Leaves And Bust, another portrait of Walter sold last year for a record $106.5m (£65.5m).
Dr Michael Spence from the university said it was a "very generous and far-sighted gift" that was donated to them by an anonymous person.
"We are grateful for their extraordinary generosity and delighted with the outcome of the auction."
He said the money would go towards research into obesity, diabetes and cardiovascular disease.