Profile: Dave Lee Travis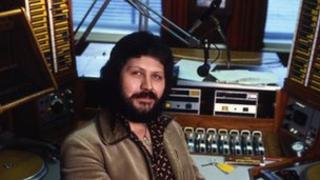 Dave Lee Travis spent 25 years at BBC Radio 1 but famously quit the corporation live on air.
His World Service music request show entertained Burmese pro-democracy leader Aung San Suu Kyi during her 15 years under house arrest, with the Nobel Peace Prize-winner saying A Jolly Good Show had made her world "much more complete".
But the 66-year-old presenter - nicknamed DLT and the Hairy Cornflake - is best known for his long stint on Radio 1.
Born in Derbyshire in 1945, the broadcaster's first job was working as a graphic designer, before launching his radio career at the offshore pirate station Radio Caroline in 1965.
Three years later, Travis joined the team at Radio 1, presenting the Pop North show from Manchester.
The DJ was quickly promoted to his own Sunday morning show.
He also landed a weekday lunchtime show, before landing the role as host of the prestigious breakfast programme in 1978.
It was when he took over from Noel Edmonds that the heavily-bearded presenter, who had previously adopted the nickname The Hairy Monster, began referring to himself as The Hairy Cornflake.
In 1976, he released the song Convoy GB, which went to number four in the UK charts.
The song - a parody of the US hit track Convoy - was released under the name Laurie Lingo and the Dipsticks and recorded with DJ Paul Burnett.
The sound effect taken from the track "quack quack oops" became a famous Radio 1 feature.
Travis's Radio 1 career came to an end in 1993, when he resigned on-air from his role, telling listeners he was unhappy with changes that were taking place at the station.
However, the DJ continued presenting the BBC World Service's Jolly Good Show, which he began in 1981.
He hosted the music request show for 20 years and it was during this time that Aung San Suu Kyi became a regular listener. Travis met with Ms Suu Kyi during her trip to London earlier this year.
Having officially left the BBC in 2001, Travis made a brief return to the corporation two years later to present a Sunday morning show on the regional station Three Counties.
Travis now presents The DLT Show for the Magic network.
As well as a varied career in radio, he has also featured in a number of TV shows including children's programme Go Getters and The Golden Oldie Picture Show.
He was a regular Top Of The Pops presenter and in 1971 provided the UK commentary for the Eurovision Song Contest.
Last year Travis was inducted into the Radio Academy's Hall of Fame.