BBC to dramatise Life Of Brian controversy in new film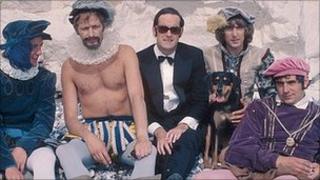 A BBC comedy drama that explores the controversy surrounding the release of Monty Python's 1979 film, Life of Brian, has been commissioned.
The comedy movie revolved around a man called Brian Cohen, who was mistaken for the Messiah.
At the time, church leaders protested over the production claiming it mocked Christ and it was subsequently banned in several countries.
Holy Flying Circus will be broadcast in the autumn on BBC Four.
Life of Brian was a huge box-office success, earning the fourth-highest takings in the UK in 1979 and the highest for any British film in the US that year.
Shortly after the film was released, John Cleese and Michael Palin engaged in a now famous debate on the BBC Two discussion programme Friday Night, Saturday Morning.
Broadcaster Malcolm Muggeridge and the Bishop of Southwark, the Right Reverend Mervyn Stockwood, argued the film was an attack on the Christian faith.
The new drama will be written by Tony Roche, whose other credits include In the Loop and The Thick of It.
Owen Harris, who has worked on Misfits and Secret Diary of a Call Girl, has signed up to direct.
The BBC said the 90-minute film would incorporate "surreal cutaways including puppetry and animation".
Controller of BBC Four Richard Klein said: "This is a smart and witty take on both the nature of censorship and the world of Monty Python.
"Tony Roche's script is both bold and entertaining, a wonderfully warm homage to one of the most original of British comedy teams."
Darren Boyd will play John Cleese and Charles Edwards has been cast in the role of Michael Palin.
Comedian Steve Punt will star as Eric Idle, Rufus Jones plays Terry Jones, Scots-Canadian former Edinburgh Comedy Award winner Phil Nichol is Terry Gilliam and Tom Fisher plays the late Graham Chapman.