Raw Sex star Simon Brint dies aged 61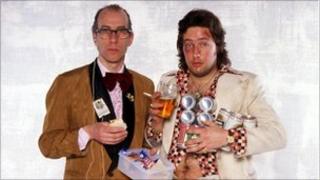 Simon Brint, one half of comedy musical duo Raw Sex, has died at the age of 61.
Brint's agent, Maureen Vincent, confirmed the news after Lenny Henry reported his friend's death on his Twitter account.
Henry wrote: "My good friend Simon Brint passed away. Rest in peace Simon - we love you very much."
Brint and Rowland Rivron's spoof act Raw Sex went on to become the house band for French and Saunders on their TV show.
During the comedy series, French and Saunders and the duo performed skits as Abba and the Pet Shop Boys.
But they were best known for being amateurish and shambolic with Ken (Brint) on keyboards and slobby, often drunken Duane (Rivron) on bongos.
Brint was also a composer. He wrote music for small screen shows including The Monarch of the Glen, Coupling, Stella Street, The Mary Whitehouse Experience and The Lenny Henry Show.
He also wrote the theme tune and incidental music for long-running LWT drama London's Burning.
Brint, who lived in Somerset, also arranged several versions of the Blue Peter theme tune.
He was also a member of a band alongside Adrian Edmondson, Phill Jupitus and Neil Innes.